Intel's trying to keep a tight lid on its upcoming Lynnfield-based Core i5 and Core i7 processors, but certain UK-based retailers aren't helping its case.
Earlier this week, Lambda-tek.com listed Intel's three upcoming parts - the Core i5 750, Core i7 860 and Core i7 870 - along with pricing. Today, Portsmouth-based Novatech is going one further and providing what looks like a firm release date of September 8th.
According to Novatech's online store, its Elite Pro PC - complete with a 2.66GHz Intel Core i5 750 processor - will be launched in under a week, with a countdown on its product page expiring when the clock strikes midnight on Tuesday.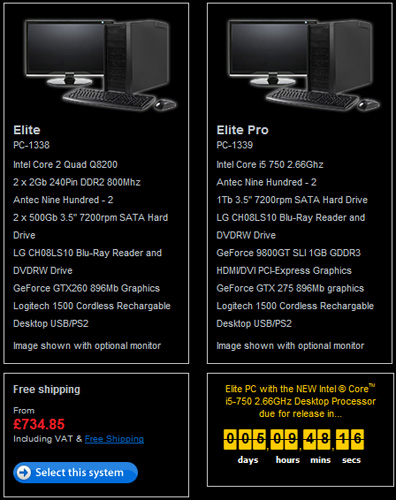 The date seemingly confirms recent rumours, and those planning a Lynnfield build should be able to order Intel's new parts on September 8th - along with what's sure to be a bevy of P55 boards and a barrage of supporting dual-channel memory kits.
*Update* Novatech has updated its product page and no longer lists Intel's 2.66GHz Core i5 750 processor by name. It does, however, still state that a "New Future Intel Core I5 Processor - Based Desktop Platform" will arrive on September 8th.