It's no secret that Intel is planning on launching another line of Nehalem-derived processors in the form of its Lynnfield parts arriving next month.
One particular processor, the 2.66GHz Core i5 750, has already made its way into the hands of Chinese users, and it's now available in the U.S., too, courtesy of Fry's Electronics.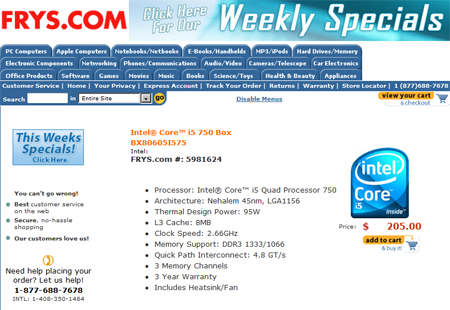 The U.S. retailer lists the part at $205, and claims it to be in stock and available for same-day shipping.
For those in need of a refresh, Intel's Lynnfield processors are based on the existing Nehalem architecture and marketed as a more mainstream alternative to the current Bloomfield line (productised as the Intel Core i7 920, 950 and 975 Extreme Edition).
Lynnfield parts will utilise a Direct Media Interface (DMI) as opposed to the QuickPath Interconnect (QPI) found on Bloomfield processors. As a result of the change, it requires a new socket - LGA1156, first available on P55 boards. Confusing matters somewhat, Lynnfield parts will be productised as both Core i5 and Core i7 models, with the two differentiated by hyper-threading support.
The quad-core Core i5 750 will ship clocked at 2.66GHz with 8MB of L3 cache. The part won't support hyper-threading and our sources indicate pricing at $192 in thousand-unit quantities.
Lynnfield's Core i7 derivatives, meanwhile, will arrive as the Core i7 860 and Core i7 870 - clocked at 2.80GHz and 2.93GHz, respectively. Both will feature 8MB of L3 cache and will support hyper-threading, resulting in four physical and eight virtual cores. Pricing in thousand-unit quantities is listed as $275 and $545, respectively.
All we need to know now is how well they perform. Stay tuned as we'll be able to tell you as soon as the products are officially launched.