Still unsatisfied by the raw power offered by Intel's Nehalem architecture? Not to worry, you're likely to be impressed by the 32nm die shrink - dubbed Westmere - that'll appear as Gulftown in the ultra high-end space.
Gulftown, a part that's currently rumoured to be on course for Q1 2010, is yet to be productised, but we wouldn't be surprised to see it reach retail as Core i9. The chip aims to offer more of that Nehalem goodness, and you'd be looking at a 50 per cent increase in terms of cores and cache - making it a six-core derivative of Bloomfield that's armed with hyper threading and 12MB of L3.
Sounds a bit good, and JCornell from the XtremeSystems forums has what's believed to be the first product shot: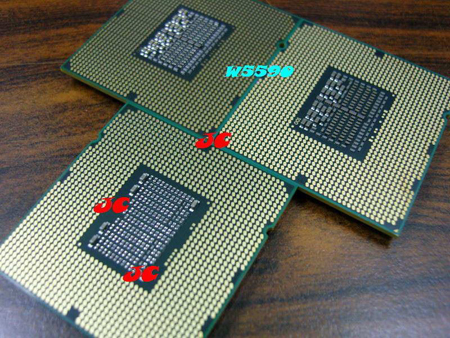 As if the part isn't impressive enough as is, it's being shown off in a dual-socket board that could be an existing Xeon-based socket LGA1366 solution, or it could be the makings of a next-gen Skulltrail platform.
Either way, put two Gulftown (potentially Core i9) parts on a single board, and you're presented with a whopping 24 cores. That's six physical and six virtual, per CPU.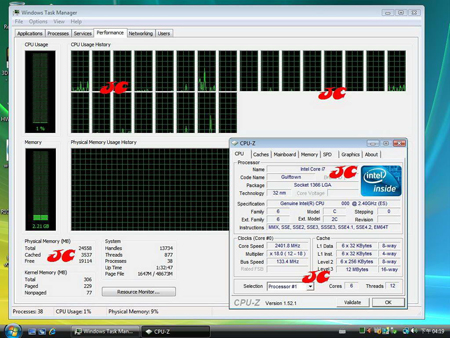 The screenshot shows an engineering sample clocked at 2.4GHz, but we'd expect the final product to ship at higher speeds. As was the case with early Core i7 samples.
As for performance, JCornell ran wPrime's multi-threaded 1024M calculation in just under 146 seconds. We've found that a 3.2GHz Intel Core i7 965 takes roughly 235 seconds. You'd expect a dual-CPU config to be quicker, of course, but even at the low engineering-sample speed of 2.4GHz, that's no slouch.