Rumour has it that AMD's on the verge of delivering a higher-clocked successor to the well-received Phenom II X4 955 Black Edition.
The successor's said to be going by the name of AMD Phenom II X4 965 Black Edition, and system/motherboard manufacturer ASRock has inadvertently revealed its existence. ASRock's updated CPU support list, pictured below with an array of new parts, now features the yet-to-be-launched AMD processor and gives it the model number HDZ965FBK4DGI (BE).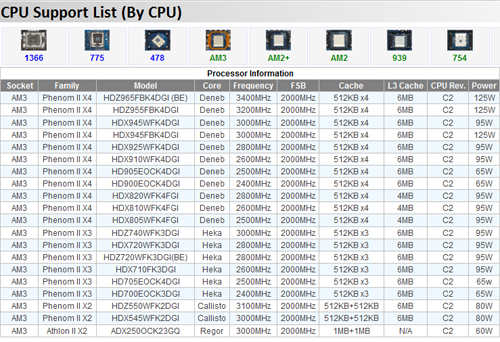 The chip, productised as the Phenom II X4 965 Black Edition is a 3.4GHz quad-core part. Should ASRock's data be accurate, it'll feature the same FSB, cache and TDP as its 3.2GHz predecessor.
Given that AMD is seemingly unable to compete with Intel on performance in the ultra-high-end space, it's resorting to slashing the asking price of its parts. At present, the impressive-and-existing Phenom II X4 955 can be had for just £160 - and it'll pair very nicely with say an £80 AM3 board and a couple of sticks of DDR3 memory. That'd make for a tasty high-end system that'll provide overclocking potential - and AMD, of course, would likely recommend adding in an ATI Radeon GPU.
The 965's higher clock speed, we reckon, will result in the chip arriving at market with a price tag of around £200. AMD's cry will be "platform, platform, platform", but Intel's Core i7 920 - now priced at £212 - continues to be the cat among AMD's high-end pigeons.