We managed to take a closer look at Intel's Atom successor - codenamed PineView - at last week's Computex, and though we weren't expecting to see the product launch until the year's end, reports now suggest the processor could be introduced as soon as October.
The PineView chip, pictured below, features a CPU, a GPU and a memory controller on a single die. Paired with Intel's Tiger Point I/O, it creates the Pine Trail platform that's expected to power many of the netbooks or nettops of tomorrow.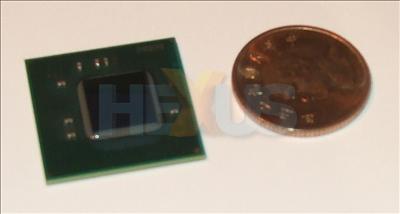 According to Chinese newspaper DigiTimes, industry sources have suggested that the 45nm part could launch in October and that it'll be productised as the Intel Atom N450.
We're led to believe that the chip's processor will be 64-bit capable, and will feature a single core operating at 1.6GHz. A dual-core version is also expected, but PineView's GPU frequencies remain unknown.
To find out more about Intel's PineView architecture, head on over to HEXUS.channel.