Those pesky critters at expreview appear to have got themselves a few slides of AMD's upcoming mobile platforms.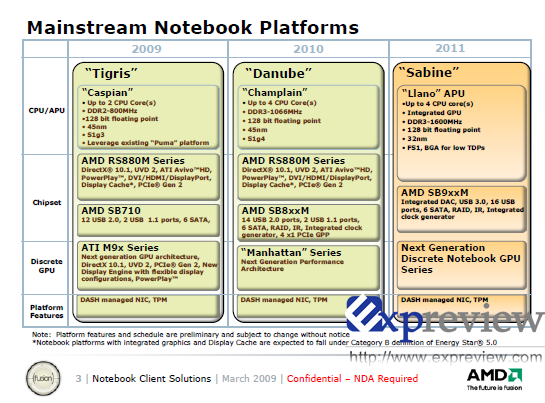 We published AMD's roadmap from the Financial Analyst Day (November 2008), so it's interesting to see if the two - set five months apart - differ much.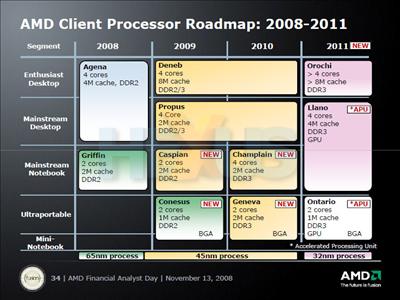 Assuming the first slide is correct, 2009 seems pretty much the same, really, with the Tigris platform headlined by the 45nm 'Caspian' dual-core chip that interfaces with dual-channel DDR2 memory. The supporting chipset gets a bump, to RS880M, presumably a faster-clocked version of M780G. Discrete GPUs are derivations on current designs, and we expect clock-speeds to go up some.

2010 brings with it the Danube platform, comprising of the Champlain chip. Scalable to four cores to give Intel's current performance CPU line-up a run for its money, Champlain will migrate the high-end mobile platform to DDR3-1,066. Other than that, the supporting chipset looks to be much the same, albeit with a newer southbridge that brings a couple more USB ports and RAID. What's really interesting are the new graphics, defined as 'Manhattan Series'. The betting is that they're 40nm models based on upcoming desktop parts.

The real changes are brought in 2011, as AMD brings CPU-and-GPU love in the form of the Llano APU (Accelerated Processing Unit - Fusion) under the Sabine platform. AMD makes clear that it'll move on to a 32nm process for Llano, which seems eerily similar to Intel's Westmere (Arrandale) on first glance.

Llano's arrival will require a socket change, to FS1, along with a new supporting core-logic. We'd also bet that the integrated graphics will be DX11-compliant and feature the next iteration of video-processing technology, UVD 3.0.

What we want to know, now, is how the CPU-and-GPU competing architectures will play out. Intel will be first off the bat with Westmere, followed a year or so later by AMD's Llano. Intel has, arguably, better (and speedier to market) CPU know-how, whilst AMD/ATI is far stronger in the graphics space. Who is your money on?