AMD brought back some bite with the release of its Phenom II chips at the start of the year. Augmented by AM3 models a little later on, AMD's pricing is such that it's battling against a raft of Intel Core 2 chips, rather than taking on the might of the Core i7. A 3.0GHz-clocked Phenom II 940 is available for £183 whilst the 2.8GHz model, Phenom II 920, is listed for just under £160.

Our testing showed that the '940 model scaled to 3.6GHz with just a basic fiddle in the BIOS, paving the way for faster-clocked Phenom IIs in the near future. Indeed, we reported on the probability of a Phenom II 955 chip, clocked in at 3.2GHz, last month.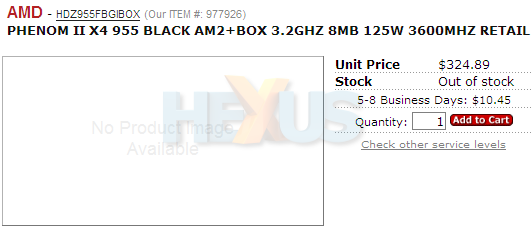 Lending further credence to the imminent arrival of the chip is a listing at a US etailer.

Let's assume that the listing is accurate with respect to specification and projected price. The Phenom II 940 AM2+ etails for $215 at Newegg whilst the Phenom II 920 is available for $184.

Undertake a quick dollar-to-pound calculation and the 'Phenom II X4 955', if released, could cost £275 or so - for, ostensibly, around 7 per cent extra clock-speed over the '940.

Conjecturing further, the Intel Core i7 920 ships at $289, so the unit price may well be erroneous in this case.

It's a game of wait and see if the 955 BE ever makes it to retail. Should it do so, it will, ceteris paribus, need to be priced at a maximum of £240 (below Core i7 920) for it to be viable proposition, we reckon.