If you believe what you hear on the grapevine, you'll be aware that AMD plans to introduce a high-end addition to its quad-core Phenom II X4 range of processors.
Originally, the semiconductor manufacturer was expected to unveil a 3.1GHz Phenom II X4 950 sometime in April, but reports later suggested that with yields being better than expected, AMD would forgo that part in favour of a 3.2GHz alternative, dubbed the Phenom II X4 955.
While we still wait official confirmation from AMD itself, an engineering sample of that very part appears to have made its way into the hands of Dumo over at the XtremeSystems forums. As you can imagine, the chip's been overclocked - with only air cooling - and here's the result: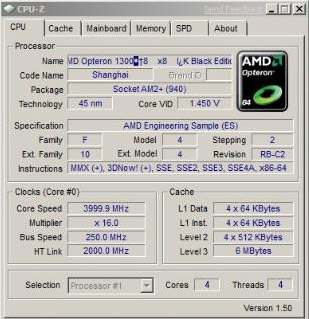 By raising voltage from 1.25V to 1.45V, and bus speed from 200MHz to 250MHz, the chip was able to hit 4GHz seemingly without breaking a sweat.
Dumo's test system consisted of an ASUS M4A79T Deluxe motherboard, 2GB of DDR3 memory overclocked to 1,666MHz and Microsoft's Windows 7 operating system.
AMD's keeping schtum, but we reckon we'll see the 3.2GHz Phenom II X4 part at stores in the very near future.