Tony Smith of Reg Hardware writes:
Expect a big shift away from today's Core 2 architecture when Intel finally released mobile processors based on its 'Nehalem' chip design - particularly come Q1 2010 and the debut of 32nm mobile CPUs.
Mobile Nehalems - in the form of the four-core 'Clarksfield' processor' are due to debut late in Q3 2009 - probably in September - according to the chip giant's latest roadmap, as posted by Japanese-language site PCWatch.
Clarksfield will be the key component of 'Calpella', the next major version of Intel's Centrino platform. Calpella will almost certainly debut as Centrino 3, following the chip giant's scheme to make new Centrino releases more clearly stand out from previous ones.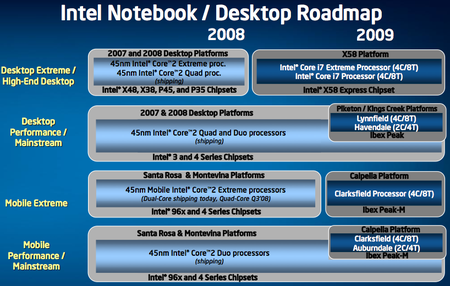 Intel's 45nm mobile plans: now torn up
According to the roadmap, the two or three first-gen Clarksfield parts will run at 2GHz or more and contain 8MB of cache - including L3 - plus a PCI Express 2.0 controller to allow it to connect directly to a graphics chip.
Calpella will also use a system logic chip called 'Ibex Peak' which will connect to the CPU over Nehalem's QuickPath Interconnect (QPI) bus.
In past public pronouncements, Intel said Clarksfield would be accompanied by 'Auburndale', a CPU with only two processing cores on board but also included a graphics core.
Auburndale is, however, absent from the PCWatch roadmap. Instead - perhaps - the Clarksfield introduction will also feature a version with less than 8MB of cache. Then, come Q1 2010, we'll get 'Arrandale', a new chip that's positioned as a dual-core part - one of which will have an on-board GPU, though the rest won't.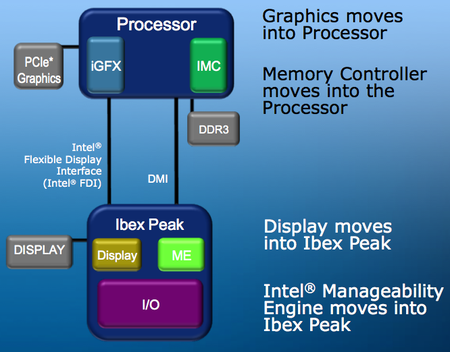 Now in 32nm not 45nm
All three Arrandales will be Calpella compatible.
What's particularly interesting is that Arrandale is said to be a 32nm part. Auburndale was always intended to be 45nm as per the first, desktop Nehalems, launched in November 2008 as the Core i7.
Intel's "tick-tock" rollout strategy calls for 32nm CPUs to debut in Q4 2009, so it looks like it will be driving the shift to 32nm rather faster than anticipated