AMD, too, had a meaty presence at this week's Supercomputing Conference in Austin, Texas.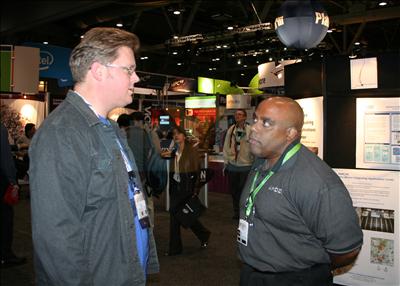 Whilst not being drawn into debating why AMD can't make a profit whilst purporting to have excellent products, Ron Myers, right, a senior validation manager, was at pains to establish that the company's Shanghai-based Opterons had been brought in ahead of schedule (well, when aren't they always ahead of schedule?) and were delivering with respect to performance and energy efficiency.

Keen to stress the drop-in upgrade over ill-fated Barcelona and longevity of the Socket-1207 platform, including enhanced virtualisation support, we reckon it was a case of smoke and mirrors, because, ultimately, Shanghai is only a margin performance improvement of what's gone before. AMD has nothing really new to bring to the table, unlike Intel's Xeon Nehalems, and a lack of innovation will begin to pinch when further Nehalem numbers are revealed.

Yes, the processors do consume less power, but AMD's had to do that because the guts of the architecture are the same and it can't magically switch on a button that will give another, say, 500MHz clockspeed.

Performance is key in the HPC space and, really, whilst AMD has made strides with Shanghai, there's a lot more work to do before it's going to convince customers that it will continue to deliver performance in future iterations.

Shanghai, then, is good, but not the knockout blow that we were expecting.