Atom is still good, says ultra-mobility chief (surprise, surprise)

Talk of Atom (don't mention the 'C' word) has been a little thin on the ground during the show, until today, that is.

Pitching Atom to the assembled masses, Intel's nascent vision is to have performance mobile devices that leverage the full worth the of Internet, via wireless connectivity, and software based on the IA architecture, Anand Chandrasekher, vice president of the mobility group, purred.

Reiterating that the Internet is now characterised by social-networking sites that dominate traffic in 2008, Anand commented that companies are now beginning to release devices that take advantage of user-based information - GyPSii, for example. The familiar drum of 'it runs best on Atom' was heard in the background, too.

Digesting his Weetabix, Anand reckoned that the x86 (IA) architecture is the only way to go, because competitors - NVIDIA's Tegra for example - fall down with respect to application compatibility. You cannot have the full experience on non-Atom devices, he beamed.

He also pointed out that Atom is more than just a single-purpose processor, and Intel has plans to proliferate past incumbent usage - embedded systems, MIDs, and netbooks.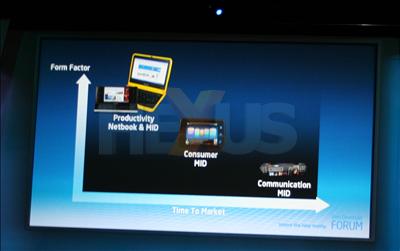 What is a MID - don't we know this already?

Mobile internet devices (MIDs), based on Atom, can be subdivided into three categories. The first set, productivity MIDs, is what you see today. They will be followed by 'consumer MIDs', which may well be cheaper and more gaming-orientated, and, finally, communication MIDs, laden with extra connectivity.

Interestingly, the consumer and connectivity MIDs will be based on the Moorestown platform - a lower-power variant of Menlow.

Still, we reckon it's been a slow, painful introduction for what is reckoned to be the coolest processor ever released by Intel.

Gaming on a MID

Thinking about pocketable devices, a handheld device (MID) was shown running World of Warcraft in a semi-smooth fashion. Knowing that the Poulsbo chipset, part of the Menlow platform, features a basic 3D rendering engine, gaming isn't an unknown, but we wonder what it would make of Crysis?

What we think

Intel Atom-powered MIDs and netbooks are here to stay. It's interesting to see a keynote address spend so much time evangelising the merits of MIDs, as if they've not gained the traction that Intel had expected. Too expensive and late to market, we wonder if they'll really take off, even with the Moorestown shrink.