Intel has just got Centrino 2 out of the door, after delaying the mobile platform by around six weeks due to IGP-related problems.

Now, with Nehalem being the base of the next-generation architecture, the chip giant will be rolling it into server, desktop and mobile CPUs, and Nehalem promises Core 2-beating performance in a chip with the same - or lower - thermal envelope.

The manifestation of Nehalem in mobile form will take place with the Calpella platform - loosely code-named Centrino 3 - and due to debut next year.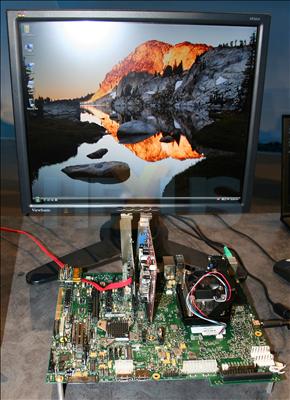 Intel showed a Clarksfield validation platform with a 'mobile' Nehalem in situ.

Frequencies weren't discussed but it wouldn't be a reach to say that by this time next year high-end laptops will be equipped with an 8-thread-capable Nehalem mobile CPU with 'next-gen' IGP graphics - even some derivation of Larrabee later on in 2009, perhaps?

Do you need that much power in mobile form? Isn't it just overkill? We'd love to hear your thoughts.