Nehalem, Intel's next-generation microprocessor architecture - or Core i7 as it has now been productised - took centre stage in Pat Gelsinger's keynote speech at Fall IDF 2008.

HEXUS has already benchmarked the desktop variant of Nehalem and found it to be a speedy critter, giving a Core 2 Extreme QX9770 a bloody nose when applications took advantage of its 8-thread compute ability.

Shedding a little more light on the workings, the DDR3-only Nehalem will feature a Turbo mode, where individual cores can be switched off and additional performance apportioned to working cores. For example, should an application be dual-threaded, there's little point in all four cores going full chat, assuming no major workload is taking place in the background. Rather, the working cores' speed will be dynamically adjusted, upwards, to an extent where the chip's TDP is reached. You may well receive an extra 10 per cent clockspeed in core-gating scenarios.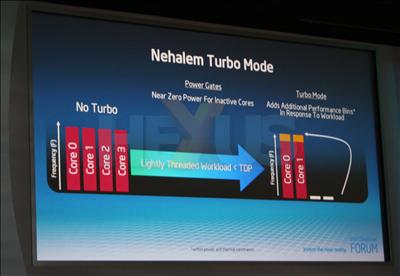 Here we see it in PowerPoint practice.

It makes implicit sense because a significant number of consumer applications remain oblivious to the wiles of multithread processing, and Turbo Mode follows on from what Intel, and others, have been doing in the mobile space.

Differing from the incumbent CPUs, Nehalem also features what we would call a microcontroller-on-a-microprocessor, designed to accurately measure the power usage, rather than rely on an on-die thermistor alone. By doing this, Intel says, temperatures, voltages, and speeds can be controlled in a much more granular fashion than what's possible today.

Interestingly, we found out that Nehalem's architecture isn't as fast as it could have been. Sacrifices were made to make it more power-efficient than the guts of Core 2. As an example, Nehalem uses low-power, slower static CMOS transistor chip design rather than faster, power-hungry domino logic or Pentium 4's LVS (low-voltage swing). Had it used either of the latter technologies, TDP would have risen along with performance. But it's all about keeping everything ticking along in a sub-150W envelope, right?