Intel today launched its first integrated x86 system-on-a-chip (SoC) with QuickAssist technology. The chip, aimed largely at the embedded market and known as the EP80579, marks the first of many SoC solutions in the pipeline from the world's largest semiconductor manufacturer.
We're well aware of Intel's plans to make its chips dominate across all platforms, bringing x86 compatibility everywhere. And, at a press conference earlier today, Gadi Singer, vice president of Intel's mobility group and Doug Davis, vice president of Intel's digital enterprise group, were on hand to discuss Intel's SoC strategy.
Singer began by detailing the expected growth of mobile Internet users. Intel expects 1.2 billion mobile Internet users by 2012, as well as 100 million households watching Internet-based video on their TVs by 2011. Those huge numbers are just a fraction of the bigger picture, Internet-ready devices will ultimately become ubiquitous and Intel wants its chips at the centre of it all.
Today, the California-based semiconductor manufacturer took a step toward that goal with the launch of its x86-compatible SoC, the EP80579. The chip, available in eight models, features an Intel Pentium M core, ranging from 600MHz to 1.2GHz.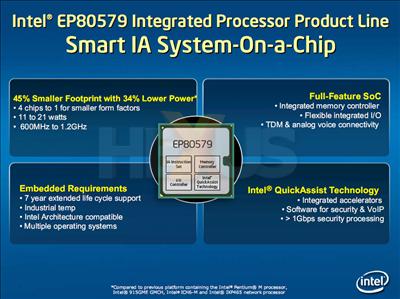 By combining the IA instruction set, memory controller, I/O controller and QuickAssist technology onto the same piece of silicon, the SoC achieves a 45 per cent smaller footprint, whilst consuming 11 to 21 Watts of power.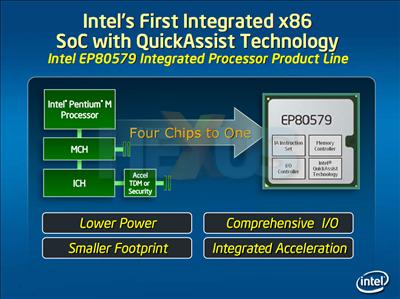 However, with the EP80579 targeting the embedded market, it's a chip we're likely to hear little of. Move forward, and a little further down the Intel roadmap, and things become a whole lot more interesting.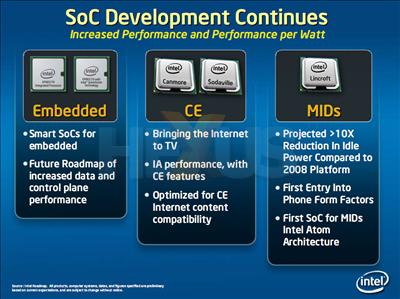 Early in 2009, we'll see the arrival of Intel's Canmore and Sodaville SoCs, a pair of chips that will bring the x86 instruction set to consumer electronic devices. Following that, late in 2009 or early 2010, we'll see SoCs based on Intel's Atom architecture in the form of Lincroft. The Atom-based SoC will target ultra-mobile devices such as phones and vows to reduce power consumption as much as ten times that of Silverthorne and Diamondville.
Intel claims its advantage in the SoC market comes from its high-performance computing leadership, high volume manufacturing and expertise. Ultimately, it'll be the x86 compatibility that sees off some of the competition.