If your next computer upgrade revolves around the wait for Intel's next-gen Nehalem part, it looks as though Bloomfield processors will be your only choice - unless you're willing to wait until the third quarter of 2009.
The following slide, captured by Expreview, details Intel's Nehalem roadmap over the coming year. It shows that Intel's mainstream and value Nehalem parts, Lynnfield and Havendale, won't see the light of day until nearly a year after the introduction of Bloomfield.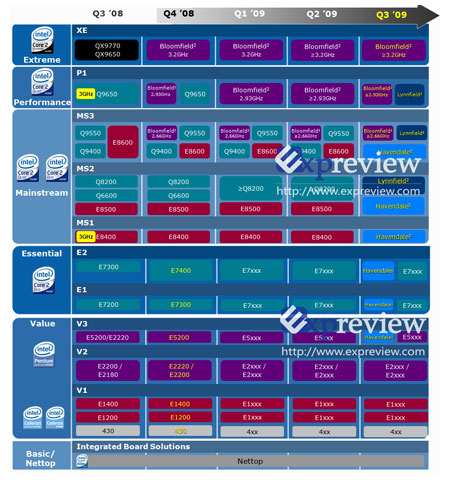 Though the wait for more Nehalem parts is longer than we anticipated, the 2.66GHz Bloomfield expected to land before the end of this year at around $300 now looks all the more appealing.
A second slide, detailing some of Lynnfield and Havendale's key features is a little more interesting. Lynnfield, targeted at both the mainstream and performance markets, will feature four hyper-threading enabled cores and support dual-channel DDR3, not the triple-channel available with Bloomfield. There'll be 8MiB of cache and support for two 8x PCI-E graphics cards.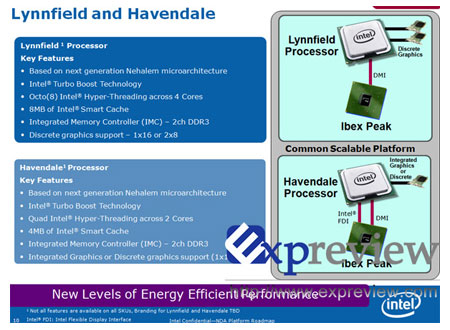 Havendale, aimed at the value and mainstream markets, could become Intel's first processor to feature integrated graphics. Details on the graphics architecture remains unknown, but it appears to be at the sacrifice of sheer CPU performance. Havendale processors will feature only the two hyper-threading enabled cores, and 4MiB of cache.
Related reading
Intel's 2.66GHz Nehalem chip to target the mainstream at $284?