It's been something of a subdued event, but AMD today launched three new additions to its Phenom range of CPUs.
The 65nm trio includes a new top-of-the-range part, the 2.6GHz Phenom 9950 Black Edition. The overclocking-friendly chip has a maximum TDP of 140 Watts and will retail at $235.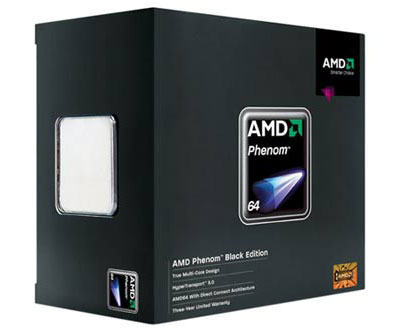 The Phenom 9950 is joined by two very different, yet very similar, counterparts; the Phenom 9150e and Phenom 9350e. Similar in the sense that the chips carry near identical feature sets but differentiated by their "energy efficient" tag.
The 9150e and 9350e are clocked at 1.8Ghz and 2.0GHz, respectively, and consume no more than 65 Watts. That makes the pair noticeably more energy efficient than the 95W Core 2 Quad chips from Intel. They'll be well priced, too, with the 9150e at $175 and the 9350e at $195 (in quantities of 1000).
Related reading
HEXUS.net - Review: AMD Phenom X3 8750: tri-core Phenom to challenge Intel's Core 2 Duo?
HEXUS.net - Review: AMD Phenom X4 9850: Phenom fixed, but not phenomenal