Ultra-portable devices have been the focus of many the industry's big names in 2008. Intel's Atom has been at the forefront of media attention, followed by the likes of VIA's Nano and NVIDIA's Tegra.
With all the usual suspects staking their claim in the portable market, we'd begun to wonder, what's AMD doing? Granted, its ageing Geode processor is still used in some of today's mobile devices, but surely the Sunnyvale-based semiconductor manufacturer has more in store?
Well, apparently it does have something en route. Pictured below is what appears to be a leaked AMD slide, detailing a single-core 64-bit processor clocked at 1GHz.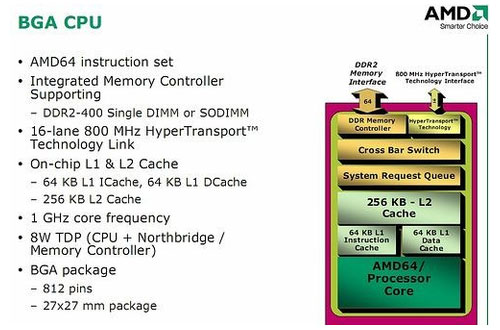 The chip, which encompasses a DDR2 memory controller and provides HyperTransport support, measures 27x27mm and has a TDP of 8W. The early details suggest, therefore, that AMD's offering won't be as impressive as Intel's 1.6GHz 2.5W Atom N270 part.
AMD's CPU could be used in netbooks, but its 8W TDP will be a hugely limiting factor in smaller devices such as MIDs. If the slide is indeed accurate, it highlights the somewhat obvious; AMD won't be sitting out the race for ultra-mobile supremacy.
Source: eeepcnews.de