Intel has introduced its biggest Stratix 10 family FPGA yet at a tech event in China. The new Intel Stratix 10 GX 10M FPGA appears to have got its 10M suffix thanks to its logic density - it has 10.2 million logic elements (LEs) - about 4x more than its nearest rival. Already multiple customers in the ASIC prototyping and emulation market have received samples as Intel gears up for production.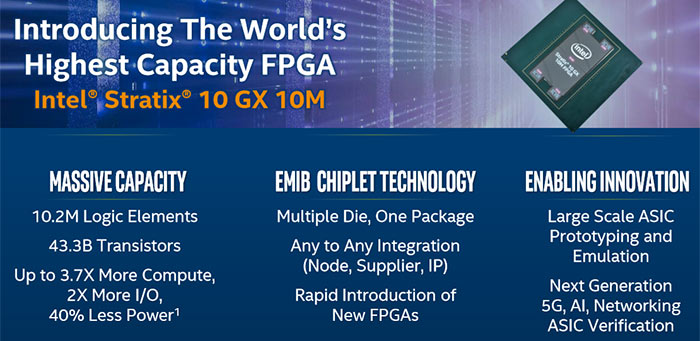 In the Intel Stratix 10 GX 10M FPGA two high-density Intel Stratix 10 GX FPGA core fabric dies (with a capacity of 5.1 million LEs per die) along with appropriate I/O tiles are connected via Intel EMIB technology. It is notable that until this FPGA design Intel hadn't used EMIB to connect together two high powered dies. Furthermore, the Intel Stratix 10 GX 10M FPGA is approximately 3.7x denser than the Intel Stratix 10 GX 1SG280 FPGA, previously the densest member of the Intel Stratix 10 device family.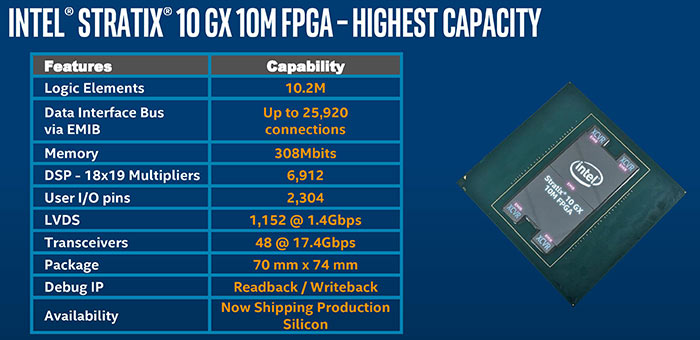 Other key specs of the Stratix 10 GX 10M FPGA can be perused in the table above.
Intel says that it has customers lined up for its latest and biggest FPGA in the ASIC prototyping and emulation market. It explains that there are several vendors in the market offering commercial, off-the-shelf (COTS) ASIC prototyping and emulation systems and that having access to the largest available FPGAs for use in these systems "is a substantial competitive advantage for these vendors". Verifying the largest, most complex, and therefore riskiest ASSP and SoC designs prior to tape out using one of these machines is another important use-case and can save companies millions of dollars - by minimising bugs ahead of chip mass fabrication.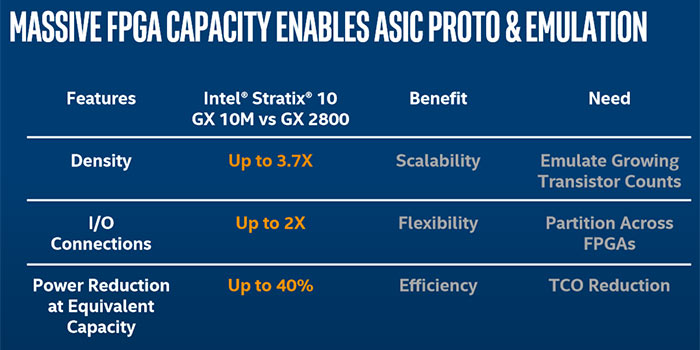 Intel concludes its blog post by saying that its latest semiconductor and packaging technologies used to make the Stratix 10 GX 10M FPGA are just the start of the market-visible benefits we will see. It believes that using the same tech in other products will provide "a unique, innovative, and very strategic Intel advantage".
Back in September HEXUs reported upon Intel shipping its first Stratix 10 DX FPGAs with support for Intel Ultra Path Interconnect (Intel UPI), PCI-Express (PCIe) Gen4 x16 connectivity, and a new controller for Intel Optane technology.