Yesterday AMD held a special event in Rome, Italy, to talk about the momentum of its Epyc Rome processors, announce new partner platforms, performance milestones, and talk about new customers. HEXUS picked out the Dell EMC PowerEdge servers with 2nd Gen AMD Epyc processors announcement news to highlight on the news pages.
On the same day news of AMD's most powerful Epyc Rome processor yet came to light via AMD and French supercomputer partner Atos. The new AMD Epyc 7H12 processor is a variant of the 64C/128T Epyc 7742 server processor for liquid cooled systems.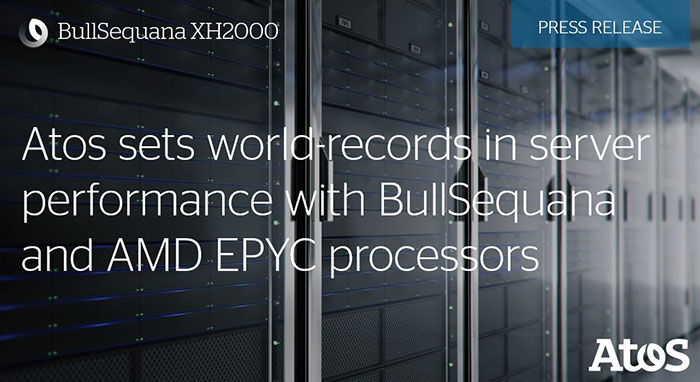 In the official Atos press release you can see that the Atos BullSequana XH2000 supercomputer powered by an AMD Epyc 7H12 processor has set four new world-records in server performance. You will read that the system's enhanced DLC (Direct Liquid Cooling) was "essential in enabling the AMD's 280W Epyc 7H12 processor to reach its maximum level of performance," and achieve these records. For an example of its appeal, the AMD Epyc 7H12 in the BullSequana XH2000 achieved an 11 per cent increased HPL Linpack benchmark score compared to the Epyc 7742.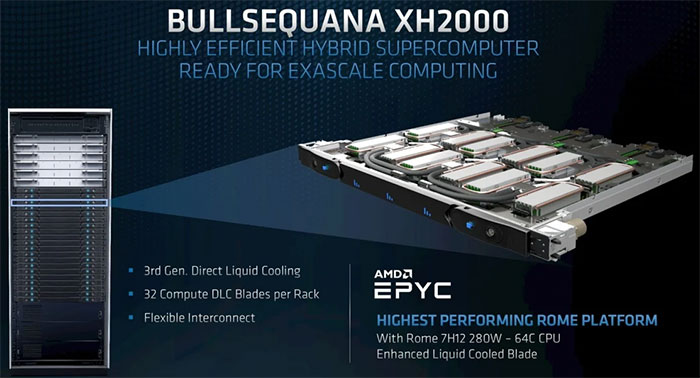 Getting to the nitty-gritty, the AMD Epyc 7H12 processor runs at a significantly faster base clock than the popular Epyc 7742 but has a slightly tuned down turbo clock and a hike in TDP. As you read in the Atos press release, you need an advanced liquid cooler to deal with its 280W.
Cores/
Threads

Base clock

Boost clock

L3 Cache

TDP

Pricing per 1000 (USD)

EPYC 7H12

64 / 128

2.60GHz

3.30GHz

256MB

280W

TBA

EPYC 7742

64 / 128

2.25GHz

3.40GHz

256MB

225W

$6950

EPYC 7702

64 / 128

2.00GHz

3.35GHz

256MB

180W

$6450

EPYC 7702P

64 / 128

2.00GHz

3.35GHz

256MB

200W

$4425

Above you can see the 64-core AMD Epyc 7H12 processor in an at-a-glance comparison table vs its 64C stable mates.
With all the talk about TDP and liquid cooling above, one must remember that this processor is said to be very power efficient considering the record breaking performance results it can achieve. Atos says its BullSequana XH2000 supercomputer using the Epyc 7H12 will deliver "an optimal TCO (Total Cost of Ownership) enabling millions to be saved over the project lifespan".