One of Intel's upcoming Cascade Lake-X high-end desktop (HEDT) chips has been put through Geekbench 4. Twitter tech treasure trove Momomo_US spotted the entry sometime yesterday. A shared screen-grab shows the Intel Core i9-10900X processor was installed in a Dell Precision 5820 Tower X-Series system.
Simply going by the nomenclature, the Intel Core i9-10900X looks set to be the direct successor to the existing Core i9-9900X - and this Cascade Lake-X part is a Skylake-X refresh. You can see in the screen-grab that the 10C/20T Intel Core i9-10900X can be installed on the same X299 motherboards.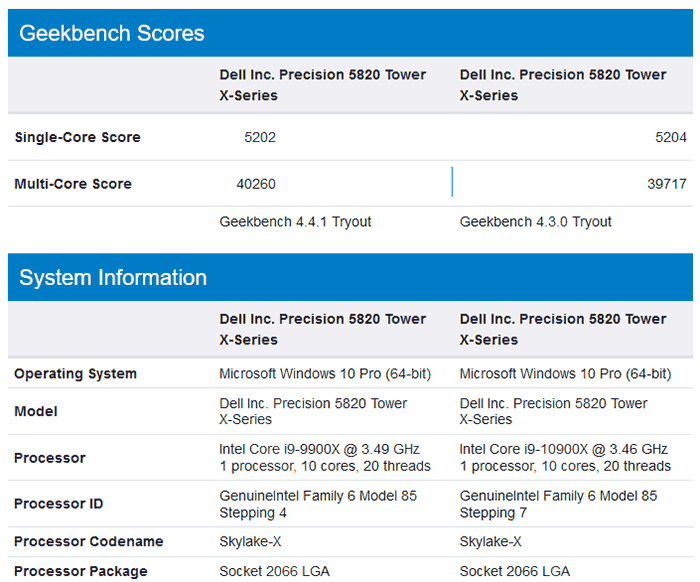 Delving into the purported numbers further, the new Intel Core i9-10900X is said to run at a base/boost of 3.5 / 4.4GHz, the same as its predecessor. However, other reports have signalled that the Core i9-10900X will be given a base clock lift of 200MHz or more, so it should show 3.7GHz+.
As it stands, a Geekbench comparison (10900X vs 9900X) of the same/similar Dell Precision 5820 Tower X-Series system, with processor switched, shows very little gain from the new processor installed. Single core performance is identical and multi-core score is just a single percentage point different in this example.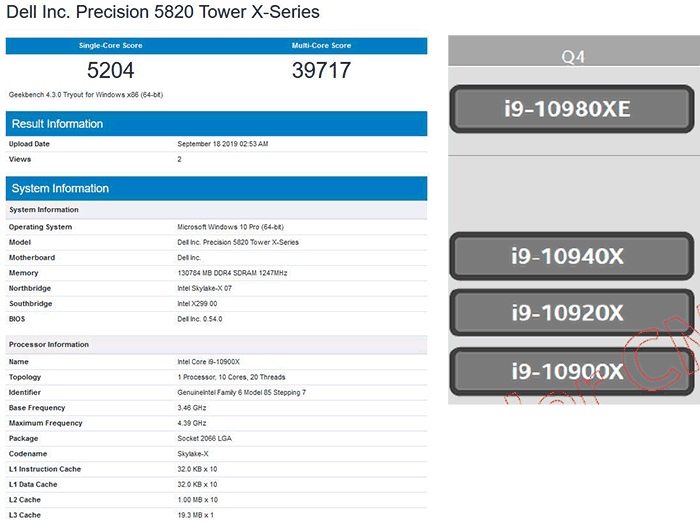 A chart showing the purported Cascade Lake-X lineup (above, right) puts the Intel Core i9-10900X right at the bottom of the stack, so it will very likely be the 10th Gen Core HEDT CPU released. Intel previously announced that Cascade Lake-X processors will start to become available this month.
Sources: Monomo_US and VideoCardz.