Video codec specialists at Beamr Imaging claim to have achieved a world first for high resolution video encoding performance. Its latest Beamr 5 software, running on a single socket AMD Epyc 7742 processor can deliver real-time performance of 79 frames per second at 8K resolutions and 10-bit colour necessary for HDR. Beamr Imaging reckons the new software is ready for live linear broadcast level streaming, premium VOD entertainment, and cloud gaming content streaming. Beamr's customer and partners include; Netflix, Intel, IBM, Microsoft, Sony, Xilinx and Yahoo.

In a press release about Beamr 5, the live HEVC codec developer said that "The AMD Epyc 7002 Series Processors arrived in perfect time for broadcast and OTT video streaming customers preparing for Tokyo 2020. Video services everywhere are beginning to compete with higher quality and expanded resolutions." Eli Lubitch, President of Beamr, said that Beamr 5 was capable of this performance thanks largely to the latest AMD processor architecture.

Raghu Nambiar, CVP and Chief Technology Officer at AMD, stated that he was excited to see that high-performance software-based video encoding powered by AMD Epyc 7002 series processors had reached the market. "It is impressive to see Beamr 5 consistently loading all cores in both single socket and dual-socket configurations. 8K live encoding is the perfect demonstration of AMD EPYC's superior performance," asserted Nambiar.
Behind the outstanding performance of Beamr 5 on AMD servers is the two-level motion estimation and micro-level parallelization which takes advantage of the core architecture of the codec engine. Quality and data size are important too and Beamr Imaging claims (PDF) that "In testing, Beamr 5 encoded a 4Kp60 clip at the same quality with up to 50 per cent higher throughput (60fps vs 40fps) while utilizing only 25 per cent of the CPU resources as compared with H.265". Protected by 45 International patents, the new codec enables both faster encoding and ultra-low latency - especially important to live sports and cloud gaming platforms.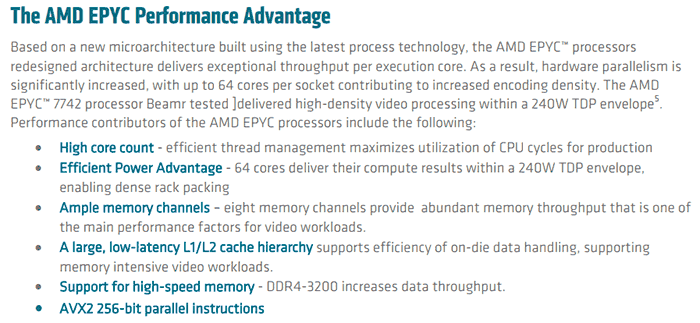 Planned joint engineering efforts from Beamr and AMD will increase the essential video encoding benefits of Beamr's encoding engine running on AMD processors.
For further reading, HEXUS reviewed an AMD Epyc 7742 2P Rome Server last month, and the review contains an overview of the record breaking AMD Epyc 7002 Series CPU architecture.