A couple of weeks ago, Intel CEO, Bob Swan, took the opportunity of the quarterly conference call to reaffirm the progress the company had made in manufacturing select chips on its leading-edge 10nm process. In particular, two key statements stood out from the transcript: 'We now have two factories in full production on 10nm. We are also on track to launch 7nm in 2021' and 'we began shipping Ice Lake clients in the second quarter supporting systems on the shelf for the holiday selling season.' For the consumer, both statements are pertinent to the upcoming 10th Gen Core mobile CPUs, codenamed Ice Lake, set to power a range of ultrabooks and thin-and-light notebook/tablets, expected on-shelf in the next month or so.
Intel has provided some more meat on the 10th Gen Core bones by outlining the various processors available to OEMs.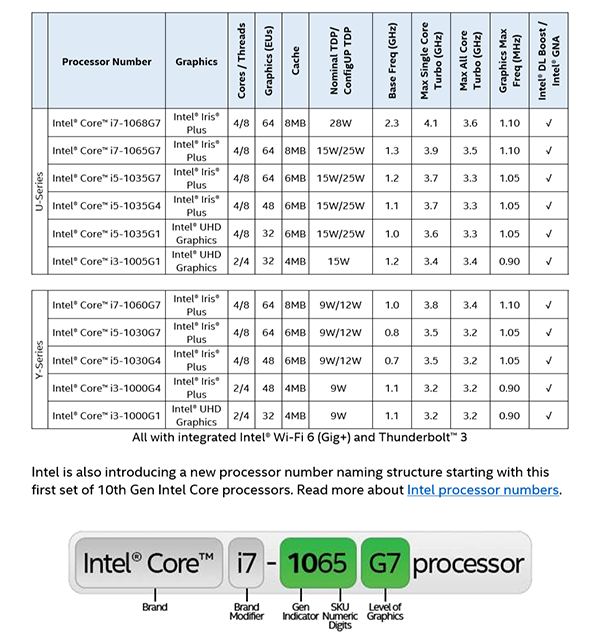 The all-new range, click to enlarge.
The initial slew are split over established Y-series and U-series families. Intel keeps to the Core i3, i5 and i7 branding but differentiates processors in the same category by adding a six-character suffix that feels needlessly complicated.
Take the Core i5 as an example. All models use a four-core, eight-thread Sunny Cove architecture and house brand-spanking-new Gen 11 Graphics in various forms. You'll know if a chip is from the more powerful U-series family by it having the '5' or '8' in the model-numbering suffix, while the last two characters define the level of graphics. Would it not have made more sense for this to be replaced with 'U' or 'Y', as is presently the case?
Overall speeds and feeds are broadly similar to incumbent 8th Gen Core mobile (Whiskey Lake), though one can expect about 15 per cent more CPU grunt and lots more graphics power by virtue of the improved architectures on both fronts. It is reasonable to assume that any current laptop model featuring said 8th Gen Core mobile chips - and they are legion - will automatically transfer over to 10th Gen Core in the coming months, with the added benefits of fastest-ever WiFi, higher-speed DDR4, and baked-in Thunderbolt 3 support.
Intel Ice Lake-based ultrabooks are coming thick and fast. Has the specification reveal enticed you into upgrading? We'd love to hear your thoughts.