At the beginning of the week we thoroughly enjoyed AMD's keynote speech and presentation at Computex. The event was probably the most important of the whole week in Taipei, with a stellar launch lineup including; the new Navi GPUs on Radeon RX5000 series graphics cards, 3rd gen Ryzen CPUs, associated X570 chipset motherboards, and 2nd gen Epyc processors - all gracing the stage.
It was good to get some indicative benchmark numbers for the 3rd gen Ryzen processors, which will be based upon 7nm Zen 2 cores, and feature between 6 and 12 physical cores plus SMT, but of course we were left wanting more. Was it 13 or 15 per cent faster in single thread processes, for example? And though we saw some indicative gaming benchmarks (and a couple of Cinebench runs) more would be better.
3rd Gen AMD Ryzen Desktop Processor Line-up and Availability
Model

Cores/
Threads

TDP (Watts)

Boost/Base Freq. (GHz)

Total Cache (MB)

PCIe4.0 Lanes (proc + AMD X570)

SEP (USD)

Expected Availability

Ryzen 9 3900X CPU

12/24

105W

4.6/3.8

70

40

$499

July 7, 2019

Ryzen 7 3800X CPU

8/16

105W

4.5/3.9

36

40

$399

July 7, 2019

Ryzen 7 3700X CPU

8/16

65W

4.4/3.6

36

40

$329

July 7, 2019

Ryzen 5 3600X CPU

6/12

95W

4.4/3.8

35

40

$249

July 7, 2019

Ryzen 5 3600 CPU

6/12

65W

4.2/3.6

35

40

$199

July 7, 2019
Over the last few hours, benchmark database miner Tum Apisak has shared a number of purported benchmarks featuring a 3rd gen Ryzen processor that didn't get much limelight at the keynote on Monday. Apisak has shared two results from UserBenchMark, and a pair of results from GeekBench. They all feature the AMD Ryzen 5 3600 in a variety of machines / configurations. From the above table of SKUs you can see the $199 AMD Ryzen 5 3600 features 6C/12T, base/boost of 3.6/4.2GHz, and a TDP of 65W.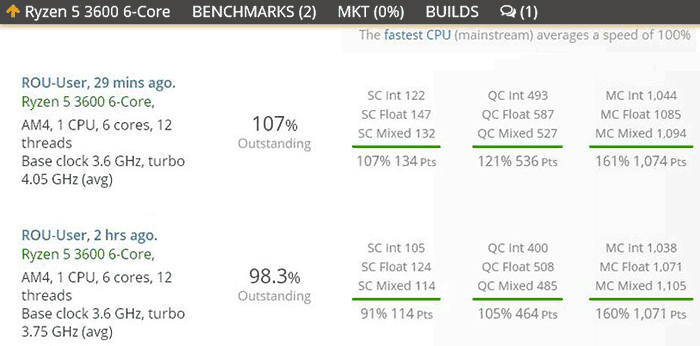 Looking at the UserBenchMark results, the 107 per cent score puts this current entry-level 3rd gen Ryzen desktop processor on a par with the Intel Core i7-8700K and AMD Ryzen Threadripper 1950X in this set of tests. That is surely impressive for the suggested retail price.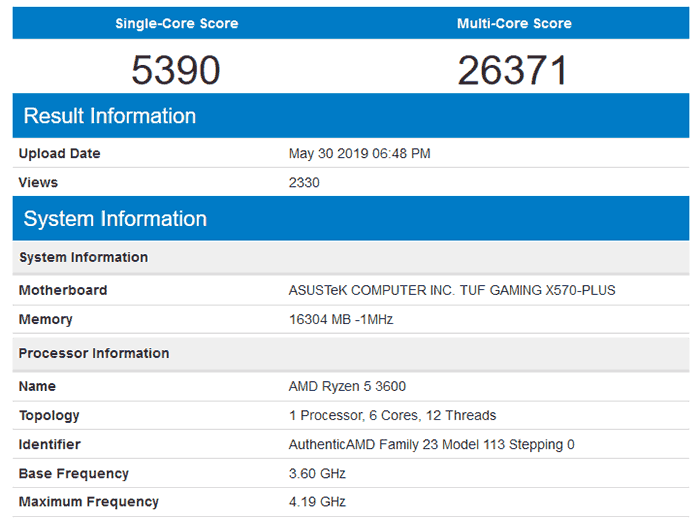 Moving over to the GeekBench results, the AMD Ryzen 5 3600 installed on an Asus TUF Gaming X570-Plus scored 5390 in single-core and 26371 in the multi-core tests. According to further database digging done by NoteBookCheck, this single core score of 5390 "is more than any other Ryzen-branded chip, including Threadrippers, currently found in the benchmark chart". Meanwhile this same 3rd gen Ryzen processor's single-core score matches the likes of the 8-core i7-7820X and the 18-core Intel Core i9-9980XE in GeekBench tests.
AMD's third gen Ryzen desktop processors will become available from 7th July.