Intel has provided extensive details of its 10th Gen Core processors for mobile, AKA the 10nm Ice Lake processors. The firm admits that Ice Lake is the first major update to its processor line since Skylake back in 2015, something that enthusiasts are very well aware of. Ice Lake will debut in its mobile form in advanced laptops delivering new transistor technology, new core and graphics sub-components, and new platform integration technology to bring all this together.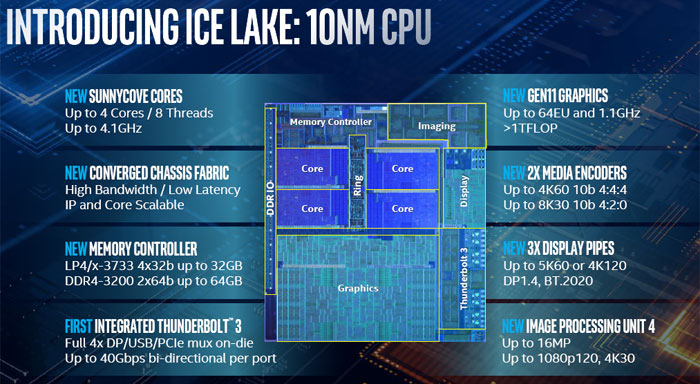 As you can see in the slide above, Intel is using a new converged fabric to bring together several new technologies to create the 10th Gen Core mobile processors. In addition to the subcomponents you see highlighted in the diagram there is; integrated Wi-Fi 6, fully-integrated voltage regulation for CPU and PCH, a powerful quad-core audio DSP which enables lW power wake-on-voice, and a good I/O base spec - up to six USB 3.1 (or 10 USB 2) ports, x16 PCIe 3.0, x3 Sata ports, and an eMMC 5.1 interface.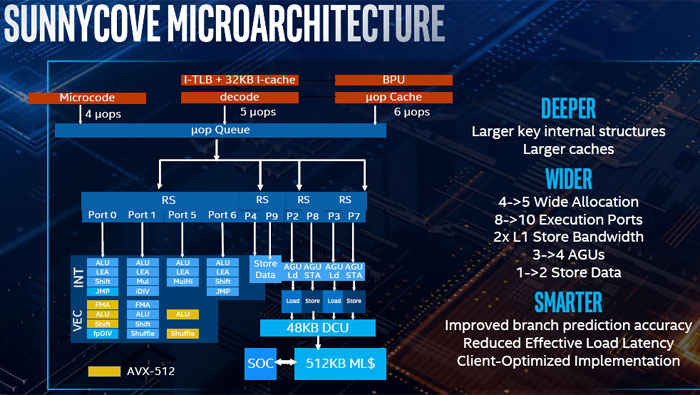 These mobile parts will pack up to 4C/8T in CPU core terms and there will be both 15W and 9W parts. Intel says the Sunny Cove microarchitecture is deeper, wider and smarter. The architecture is tailored for low latency and bursty workloads. Furthermore, it includes new-and-enhanced capabilities such as new instructions for cryptographic performance, additional vector capabilities (providing up to 2.5X Ai processing uplift compared to Coffee Lake, among other things), and extra security. Interestingly, weighing Sunny Cove core performance across a selection of benchmarks, it provides up to an 18 per cent iso-frequency IPC improvement compared to Skylake parts.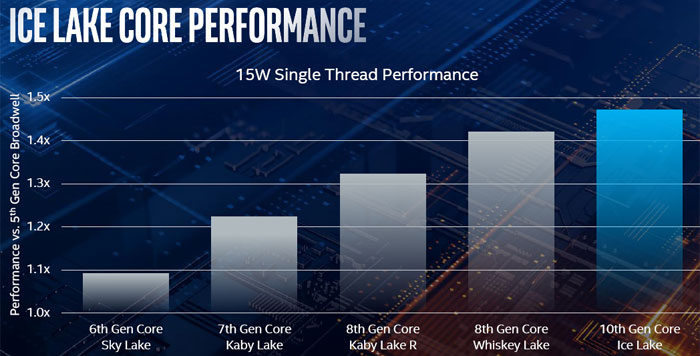 Above you can see some intergenerational processor comparisons based upon SYSmark and MobileMark scores run on a single thread.
Gen 11 graphics
Moving on to some details about the Gen 11 graphics, Intel is claiming a "smooth gaming experience" will become a feature of the new Ice Lake mobile processors. In a quick comparison, Intel says that Gen 11 graphics provide up to a 1.8x performance uplift compared to its previous best iGPUs and will be marketed as Intel Iris Plus graphics. Intel's new, wider architecture, optimised for power efficiency and with a revamped memory subsystem, plays a major part here. These iGPUs use up to 64 EUs at up to 1.1GHz, capable of up to 1.12TFLOPS FP32 or 2.25TFLOPS FP16. A significant help in the 'smooth' stakes is the arrival of support for Vesa Adaptive Sync screen technology, minimising screen tearing and stuttering in gaming.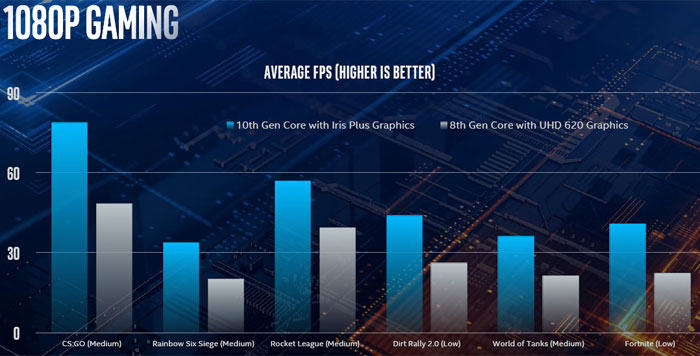 So, how will one of Intel's energy-efficient Ice Lake laptops game? Intel has produced the chart, embedded above, showing a significant improvement over the currently common UHD 620 graphics cores built into Coffee Lake chips.
Graphics is about a lot more than gaming for most laptop users, and Intel's Gen 11 graphics have compelling features in other areas like the display engine (for HDR10 and Dolby Vision support), the media engine (for modern codec support – HEVC/VP9 encoding), and Intel is promising to devote much more time to graphics driver and associated software development. It highlighted that the latest Graphics Command Centre comes with power profile adjustments, new skins and one click optimisation for 44 popular games – with 400-plus games supported at gameplay.intel.com, and the promise of 'day 0' optimisation updates for major games releases.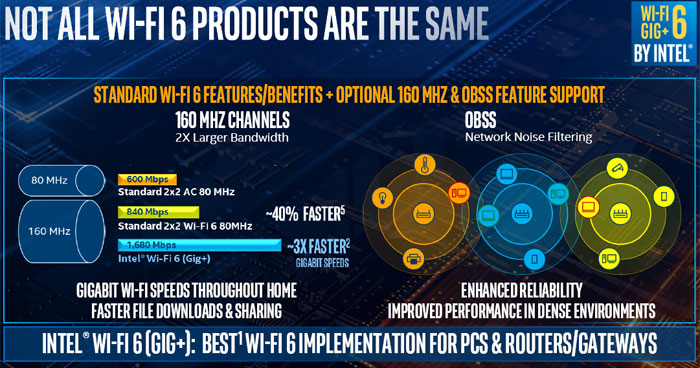 Intel thinks that another important attraction of Ice Lake is the introduction of Wi-Fi 6. The improved responsiveness, reliability and speed for mobile workers will surely be welcome. Moreover, Intel claims its particular implementation of Wi-Fi 6 might be considerably better than rivals. It also asserts that integrating the Wi-Fi component delivers optimised cost, reduced size and a good standard for world-wide certification.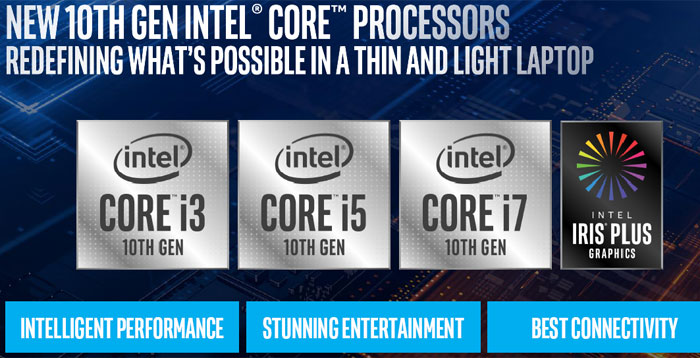 Please stay tuned for Intel Ice Lake mobile SKU details and partner laptop design announcements.