Just ahead of the weekend, prolific computer components leaker TUM_APISAK shared an intriguing graphic. The image is a breakdown analysis of a computer processor codename that had captured TUM's gaze, an AMD APU designated 2G16002CE8JA2_32/10/10_13E9. Thankfully, there was a catchier name for the component: AMD Gonzalo.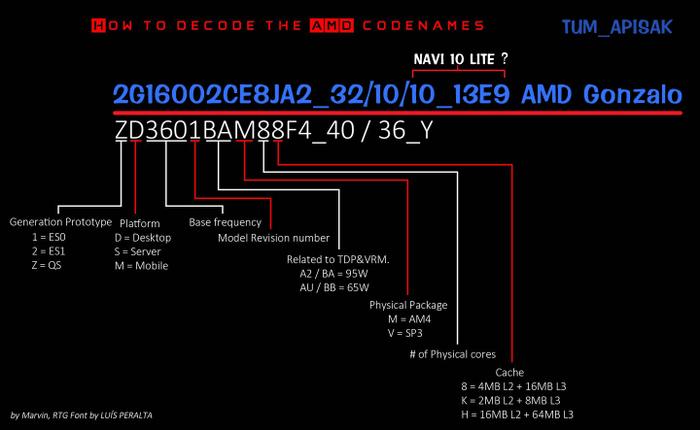 Above you can see the image shared by TUM and the decoded AMD codename. This image can be clicked on for a clearer, larger image. Using known AMD naming conventions it can be determined that 2G16002CE8JA2_32/10/10_13E9 is a second generation octa-core Zen processor. However, it isn't certain this is a Zen+ or Zen 2 architecture. The second character, G, suggests this is a gaming part, and elsewhere within the digits it is indicated that the CPU has a base/boost of 1.6/3.2GHz. For reference, the PS4 Pro tops out at 2.13GHz, and the processor in the Xbox One X at 2.3GHz.
Further along the character string is the designation 10_13E9 which TUM says represents the inclusion of Navi 10 Lite graphics cores. We are on less certain ground here but the GPU could come with a base clock of 1GHz.
Adding in a sprinkling of other rumours (and more salt) – for example that AMD Navi will launch at E3 in June, it is possible that we might hear about AMD Gonzalo at that time and we might get the first teases regarding the upcoming PlayStation 5 and Xbox Scarlett.