AMD CEO, Dr. Lisa Su, took centre stage for the major keynote on day two of the Consumer Electronics Show (CES) 2019 held in Las Vegas.
Smart, innovative design the key to great performance
Celebrating the 50-year milestone AMD is to hit on May 1 this year, Dr. Su spent a little time in outlining how iterative, smart advances in architecture are likely to play a larger part in enhancing future performance than automatic gains from moving to ever-smaller processes, which have slowed down as manufacturing challenges and associated research and implementation costs have escalated.
To this end, Dr. Su recapped on the significant strides made by the consumer Ryzen and server-focussed Epyc processors, built on an all-new architecture and connectivity fabric designed to scale easily to 32 cores and 64 cores, respectively, bringing more compute per socket to both ecosystems than ever before. Ryzen and Epyc chips have given rival Intel pause for thought in 2018 and are set to do so in 2019.
The company's GPUs have received less attention of late, yet Dr. Su had a surprise for gaming enthusiasts who thought the red team was giving up the premium end of the consumer market until the next-generation 'Navi' architecture surfaced.
Radeon Instinct reborn as high-end consumer graphics - Radeon VII

Said surprise wasn't any firm announcement on Navi - most informed commentators know it's too far off to talk about at a huge trade show such as CES - but rather news that a new, high-performance Radeon is to be made available next month - February 7, in fact.
Harnessing 7nm technology already in the machine-learning marketplace, AMD is to massage the extant Radeon Instinct 50 professional card into a gaming GPU known simply as Radeon VII, set to cost $699.

Built on the same Vega 20GL architecture and employing an identical 3,840 cores (60CUs) running at 1.8GHz alongside 16GB of HBM2 memory, AMD reckons it is, on average, 29 per cent faster than the Radeon Vega 64 across a wide number of games tested at a 4K resolution. Such performance hegemony is to be expected from a more muscular design, of course.
What is more interesting is the claim that Radeon VII is about the same speed as Nvidia's recent GeForce RTX 2080, costing the same $699, in DX11 and DX12 titles, whilst it is supposed to be faster in the less-used Vulkan API.

It is likely that AMD will use more power for the same performance - 300W vs. 250W - and lack any forward-looking ray tracing support, but the Radeon VII deal is sweetened a little with the knowledge it will ship with codes for upcoming Devil May Cry 5, The Division 2 and Resident Evil 2 titles.
Next-generation Ryzen set for mid-2019 release
Already divulged to some extent at the Next Horizon technology event in November 2018, Dr. Su used the considerable platform of CES to reaffirm that third-generation Ryzen chips are on track for a mid-2019 release. Using the Zen 2 architecture that employs a new chiplet design which separates I/O from cores - you see the two sets of cores in the picture, below - enthusiasts can expect a double-digit increase in IPC as well as extra speed from the 7nm cores.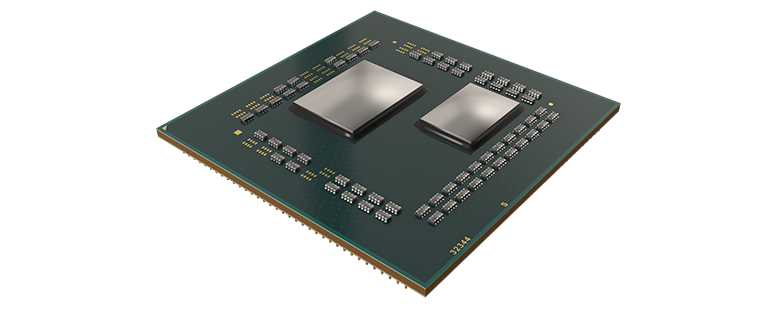 Demonstrating these facts, Dr. Su had a pre-production Ryzen 3000-series 'Matisse' eight-core, 16-thread chip running the popular Cinebench all-core benchmark. It scored just over 2,000 marks, which is about 10 per cent faster than the Ryzen 2700X and the same speed as the Intel Core i9-9900K. Underscoring the efficiency angle, AMD reckoned its pre-production processor consumed just 135W as a complete system, compared with 180W for an otherwise-identical Intel Core i9-9900K setup. Same performance, better power, and more features, including PCIe 4.0.
The takeaway
AMD has used the prestigous pretext of CES to reaffirm its near-term CPU and GPU ambition. Looking strong in the CPU arena, especially as Intel is having trouble ramping up production for its rival processors, Ryzen and Epyc ought to do well, picking up market share by dint of solid performance and, just as importantly, far better availability.
The GPU landscape is more nebulous, though the introduction of Radeon VII is a left-field move that could cause a problem for the high-end RTX GPUs: we have only another month to find out for ourselves.
2019 is shaping up to be another very interesting year for AMD.