Late last year we saw the first information leaks regarding the arrival of the overclocking friendly Intel Core i3-7350K. Even at that early stage HEXUS readers poured cold water over the principle of such a processor, especially at its leaked inventory screen price of approx $177 (though it launched in January at $184).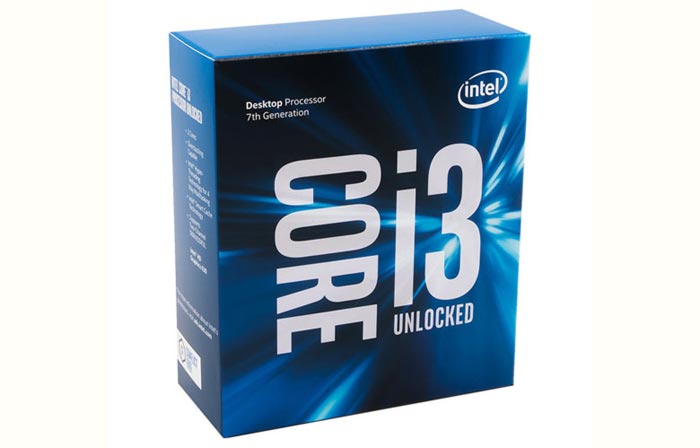 Today there are reports that Intel has slashed the price of its 2C/4T Kaby Lake Core i3-7350K chip to $149. I've found this price comes from Newegg, in what appears to be a sales promotion, rather than via any official revised Intel price list. Meanwhile in the UK it still seems to cost £170.
The Intel Core i3-7350K runs at a stock base frequency of 4.2GHz (no Turbo Boost is available in the Core i3 family) and according to Bit-Tech it is easily and affordably overclockable "to 4.8GHz or 4.9GHz". In an interesting article dubbed Why the Core i3-7350K Is a Good CPU, back in January that site compared the i3-7350K processor in both application and gaming tests against an i7-7700K with HT disabled, running at stock 3.5GHz and found them to run neck-and-neck in almost all challenges.
Back to the price cut news, and it wouldn't be a surprise to see permanent cuts to the Core i3-7350K price as it's been a few months on the market now and AMD's Ryzen 5 processors deliver 4C/8T processing from $169. HEXUS published a thorough review of both the AMD Ryzen 5 1400 and Ryzen 5 1600 (14nm) on Friday, in case you missed it. Our benchmark and performance tables include comparisons with the Intel Core i3-7350K CPU.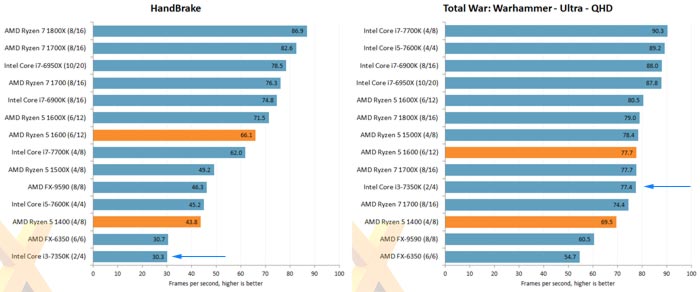 In April we reported that Intel was accelerating its CPU and platform updates due to AMD pressure. Price cuts could also be part of Intel's strategy. We shall see shortly if any significant new announcements are made by Intel at Computex.