Not only did HEXUS evaluate the performance of the AMD Phenom 9600 processor, we put it into financial context by considering its performance in relation to the price. Our initial pricing indicated that processor-in-a-box Phenom 9600s would sell for around £159, including VAT. It now transpires, on release day, that the price is actually around £180, or £15 more expensive than the faster Intel Core 2 Quad Q6600.

We've included the HEXUS.bang4buck explanation, initial calculations and revised HEXUS.bang4buck with the new pricing added. Have a look to see how the value proposition is affected by the new price.
HEXUS.bang4buck
Evaluating the value-for-money attractiveness of processors can be a tricky task. We're presenting three HEXUS.bang4buck graphs. The first takes a quad-core processor's worst-case scenario into account - a single-threaded application represented by our HEXUS.PiFast calculation. Our second HEXUS.bang4buck takes multi-threaded gaming into account in the form of low-resolution Quake 4. Lastly our megatasking scenario is based on the time taken to encode multi-threaded DivX whilst decoding a multi-threaded H.264 QuickTime 1080p clip. We divide the percentage-derived performance by the processors' pricing.


| | | | | | |
| --- | --- | --- | --- | --- | --- |
| Benchmark | HEXUS.PiFast | Quake 4 | Megatasking | Review price | Online price now |
| AMD Phenom 9600 | 78.7 | 88.5 | 88.7 | £159 | £180* |
| Athlon 64 X2 6400+ | 99.8 | 95.3 | 58.6 | £115 | No change |
| Intel Core 2 Quad Q6600 | 100 | 100 | 100 | £165 | No change |


The numbers represent performance in the form of percentages. The winner of each benchmark is ascribed 100 per cent, and it happens to be the Intel Core 2 Quad in the three chosen metrics. We then list the other processors' performance in those benchmarks as a percentage of the leader's.

For example, the Intel Core 2 Quad Q6600 returns a time of 38.53s in our HEXUS.PiFast test. The AMD Athlon 64 X2 6400+ is only marginally slower at 38.63 seconds, or 99.8 per cent of the Intel performance. The AMD Phenom 9600 trails in last with a time of 48.64s, with that time corresponding to 78.7 per cent of the Core 2 Quad's performance. We then simply divide the percentage by the price and derive a simple HEXUS.bang4buck. Intel's will always be 0.6060 (100/165) but the others will vary in comparison. Let the graphs explain all.

Here are the original graphs, as published in the review and relating to an expected online price of £159.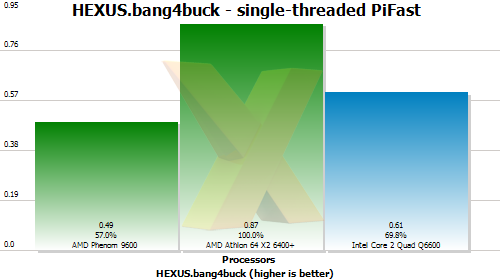 The Athlon 64 X2 6400+ wins this test by virtue of its Intel-matching performance but cheaper buy price: it as as simple as that. If the Phenom had benchmarked with exactly the same time as the Intel's its HEXUS.bang4buck would have been marginally higher due to its slightly lower price (100/159 = 0.6289). As it is, the 0.49 number is derived from 78.7/159.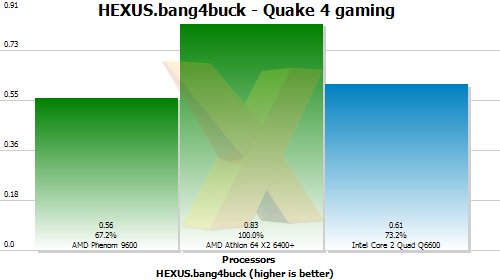 The same is largely true in Quake 4. In other words, spending an extra 40 per cent on quad-core processors is not yielding a >40 per cent gain in performance, and that's why the X2's numbers look so good.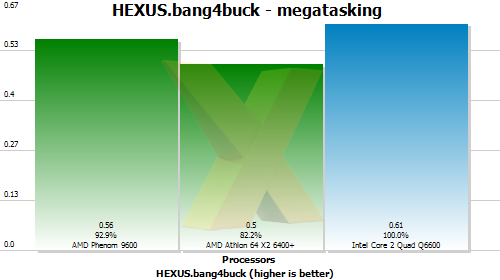 But when we head on over to megatasking, stressing the cores, the X2's cheaper price cannot compensate for the poor performance. Quad-core CPUs make sense here.

What we see is that cheaper dual-core processors do just fine until you really, really start to throw serious concurrent workload at them, and it's only then when the more expensive quad-cores begin to shine. The bottom line, though, is that Intel's Core 2 Quad Q6600 beats out the AMD Phenom 9600 in every benchmark and with respect to performance-per-pound over a variety of scenarios, albeit by only 10 per cent in some cases.



Revised HEXUS.bang4buck
We've taken a look at average Phenom pricing from leading etailers in the UK and calculated that the average retail price is actually ~£180, or £20 more expensive than our pre-review estimates.

Here are the three HEXUS.bang4buck graphs with the new pricing taken into account.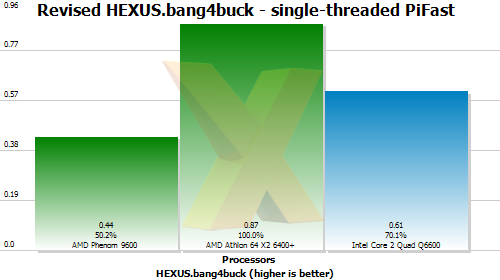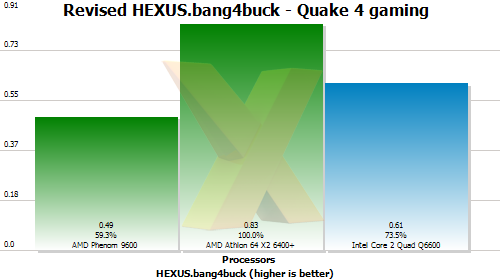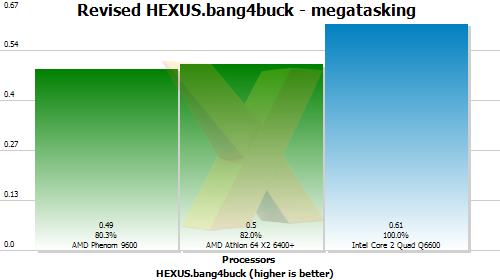 Quite simply, the Phenom 9600's HEXUS.bang4buck decreases due to the inflated price. What we see is that the Phenom 9600 becomes less attractive, as not only is it slower than the Intel Core 2 Quad in a straight-line fight, it's also now more expensive.
We have even fewer reasons to recommend the processor in view of the new price-to-performance metric, falling around 20 per cent behind the Intel Core 2 Quad Q6600. Care to disagree? Please reply in the forums.