Among the coolers debuted by Zaward at COMPUTEX, the one that first caught our eye was the SQUARE Advanced. This is a variant on the original SQUARE - see our CPU-cooler Mega Test - and due in mid July.

The aim was to provide compatibility with a wider range of motherboards, the main change being to the heat-pipes. These have been modified to prevent them interfering with motherboard components.

In addition, the fan speed has been cut from 1,200rpm to 1,500rpm, with a claimed reduction in noise from 26.9dBA to 20dBA.

As with the original, the Advanced can carry two 120mm fans in a push-pull configuration. However, also like the SQUARE, only one fan is supplied as standard.





But the SQUARE Advanced was not the only eye-catcher from Zaward.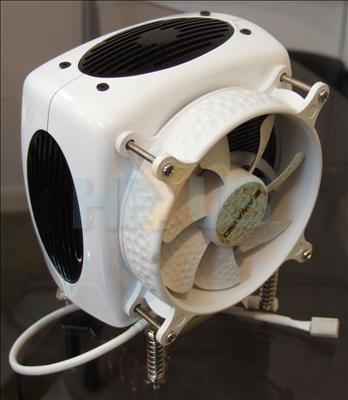 The VIVO - and forgive us for saying that's a daft name to pick when AMD's already adopted it for VGA card technology - has an all-new and striking-looking enclosed design.

The case is white with black grills, has rounded corners and has attached a 92mm Golf fan claimed to deliver a noise level of just 24.7 dBA at 2,000rpm. The fan and its surround have a dimpled finish much like that on a golf ball - hence the name.

VIVO, due in August, has three U-shaped 6mm copper heat-pipes with Direct-touch technology and, like the SQUARE and SQUARE Advanced, is ready for use with a variety of different CPU socket designs - LGA-775, AM2, 940, 939 and 754.

The same dimpled fan and surround is used by another newcomer, the Cassini, arriving in the middle of next month and offered in two variants - upright and on-your-back. Not surprisingly, each is claimed to offer just the same low-noise performance as the VIVO.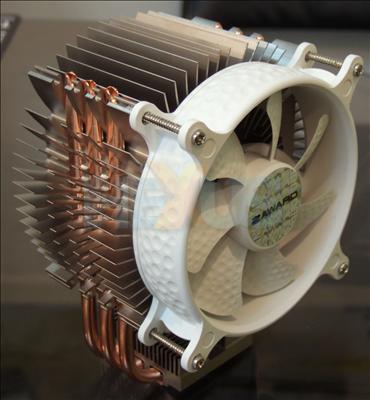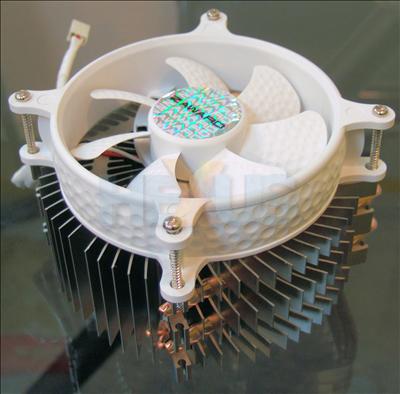 There are three U-shaped 6mm copper heat-pipes but, being being an entry-level product, the Cassini doesn't use the Direct-touch technology found in the more high-end VIVO and SQUARE coolers.

And, with stated cooling capacity of 90W, Cassini isn't suitable for some of Intel's older CPUs or current Core 2 Quad-core CPUs. But by having the two designs, Cassini is said to allow better compatibility with the CPU sockets it does support - LGA775, AM2, 940, 939 and 754.

The upright version can hold two fans - though, as you will have guessed, only one is supplied.

Last of the new CPU coolers - and no less eye-catching than the others - is the Sylphee, claimed to be a silent, high-performance model.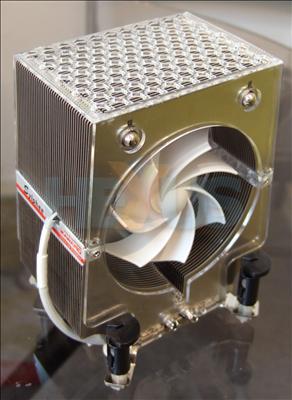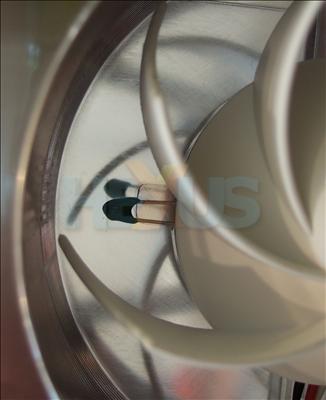 Thanks to an automatic thermal control and a special type of fan made by Verax, the Sylphee is said to run at a noise level of just 18dBA. With increased CPU load, though, the noise can climb to 35dBA.

Significantly, unlike the other coolers we've mentioned, the Sylphee can be mounted on Socket 478 CPUs, not just LGA775, AM2, 940, 939 and 754.

We thought that the VIVO name was daft enough but to say that the chosen moniker of Zaward's new Northbridge cooler is insensitive really doesn't get close to it at all.

The chosen name is the Twin Towers and while you'll be able to see from the shot below how that arose, like us you probably haven't a clue how anyone could be so unwise as to go with it.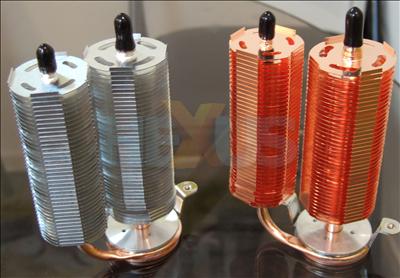 And that's a pity because the product should have considerable appeal, since it's said to be compatible with most motherboards. Two factors are at play - the cooler uses a "universal" clip design and also has a side tower that can be rotated through 360 degrees around the main tower.

There are two heat-pipes - one 8mm, the other 5mm - and a large surface area that's said to mean the device can be used passively without a fan.

Although our shot shows two variants - all-copper and aluminium-and-copper - only the cheaper twin-metal version with be available at first.