G.SKILL has announced that it will be hosting two major extreme overclocking events at Computex 2015 (which runs from 2nd to 6th June, in Taipei). The OC World Cup 2015 and the OC World Record Stage 2015 will both be hosted by the high-performance memory and SSD specialist company. This year G.SKILL has managed to secure some heavyweight sponsors for its overclocking competition events. Intel, Samsung, and Kingpin Cooling are all official hardware sponsors.

4th Annual OC World Record Stage 2015
This five day event will feature separate days devoted to pushing the limits of five motherboard vendors. ASRock, ASUS, EVGA, Gigabyte, and MSI are the chosen motherboard makers and their latest X99 boards will be pushed to the max by 14 professional overclockers from around the world. While varying the motherboard the competitors will all use the same Intel Core i7-5960X processor and G.SKILL memory configurations.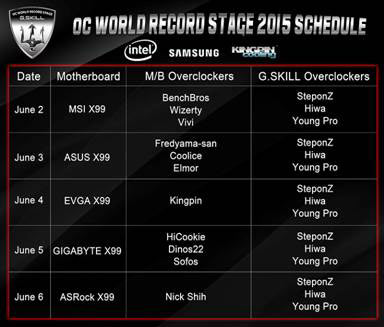 2nd Annual OC World Cup 2015 – Live Qualifier & Grand Finals
Running over four days, this knockout event is staged between the six winners from the OC World Cup online qualifiers. Overclockers Dancop, dRweEz, Hazzan, Vivi, Lam@Capital and Xtreme Addict will battle over three days with the two top scorers, across four benchmarks, clashing at a grand final on day four. Prizes of $16,200 in cash (hopefully US dollars, not New Taiwanese Dollars) will be split between the winners, with the top overclocker earning a purse of $10,000 and the prestige of being the OC World Cup 2015 champion.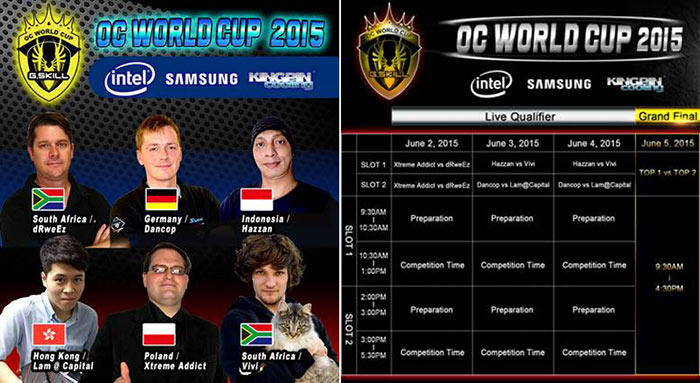 Both extreme overclocking events will take place at G.SKILL's Computex Booth I0608, located at Nangang Exhibition Hall, 1F. If you're at Computex you can quickly find the stage by setting your directional thermal imaging device to home in on liquid nitrogen temperatures.