Taiwanese PC cooling component maker Cryorig has today announced a new CPU cooler aimed at enthusiasts who are going to be building a mini-ITX or micro-ATX based system. The Cryorig C1 CPU cooler, particularly targeted at mini-ITX systems, has now completed testing and entered production. The cooler has a total height of 7.4cm and can cool high-end CPUs with TDPs beyond 140 watts whilst offering "low noise operation".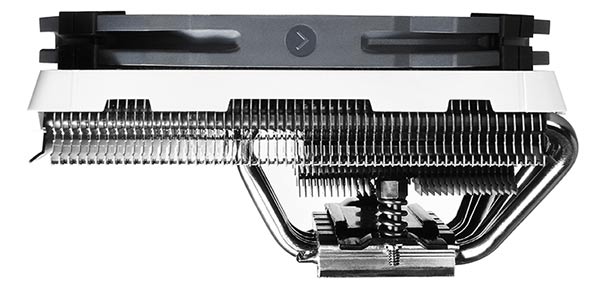 Cryorig says that with ITX systems being equipped with ever more powerful CPUs and APUs it thought that it was about time an enthusiast level cooler was made to address the market. "Cooling these crucial components is an even greater challenge in these tight spaces," said Cryorig Co-Founder and Chief Manufacturing Engineer Alex Wang. "What I think we achieved with the C1 is a solution that has outstanding performance for its size, and provides a great user experience thanks to its hassle free easy installation and robust accessories. Everything you need is in the box."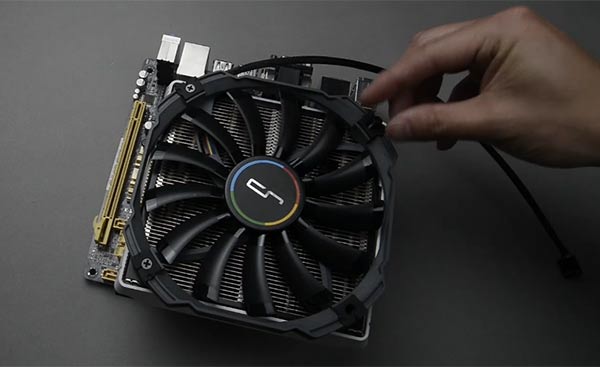 Whilst the cooler is not very tall it pretty much covers the whole of the component area of a mini-ITX motherboard as you can see from the picture above. Its dimensions are 144.5 x 140 x 74mm and, as HEXUS readers will know, a mini-ITX motherboard is 17cm square. The Cryorig C1 weighs 628g including the "silent 140 mm PWM fan" and is supplied with fittings for all the Intel and AMD sockets shown in the graphic below.

Cryorig tells us that its patented DirectCompress soldering technique applied to the C1's heatpipes provides 10 per cent more contact surface than traditional manufacturing methods. Furthermore the 'U-Type' heatpipes employed send heat away from critical components in two directions.
The six fully sintered pure copper heatpipes combined with four double TDP capacity U-Type heatpipes are in turn cooled by Cryorig's JetFin Acceleration System which uses an interesting varying fin gap layer to speed the exhaust airflow. The baseplate is made from solid copper with nickel plating.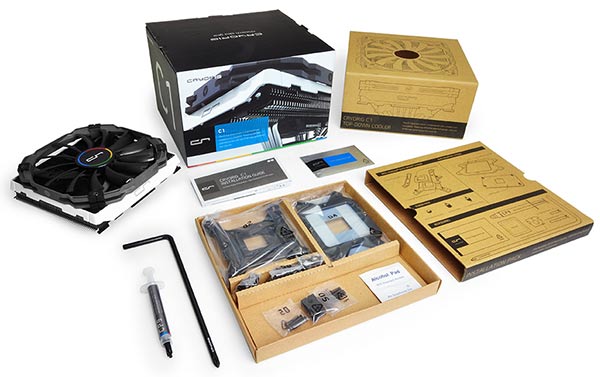 The fan utilised is a "silent 140 mm PWM fan", which is 13mm thick and features HPLN (High Precision Low Noise) bearings. Most of the noise from vibration is damped down by four Acoustic Vibration Absorbers located in the corners. If users want even more performance they can opt to install the 25.4 mm thick CRYORIG XF140 140 mm PWM fan in its place. You can see an installation video featuring the Cryorig C1 here.
We don't have pricing details for the Cryorig C1 as yet but we know this low profile cooler is expected to become available in retail from May in Asia and June in Europe and North America. Buyers should rest easy with a six year extended warranty.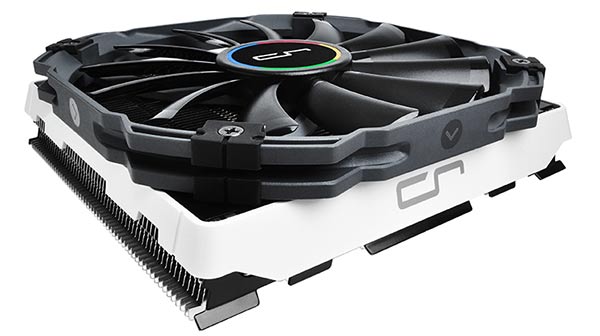 Heatsink Specifications:
Dimension ( with fan ): L144.5 mm x W140 mm x H74 mm
Weight ( with fan ): 628 g
Weight ( without fan ): 539 g
Heat pipes: 6mm heatpipe x 7 units
Top Fin: T = 0.4 mm ; Gap = 1.8 mm
Top Fin Pcs: 56 pcs
Bottom Fin: T = 0.4 mm ; Gap = 1.35 mm
Bottom Fin Pcs: 35 pcs
Copper Base: C1100 Pure copper nickel plated
RAM Height Limit: 42
XT140 Fan specifications:
Dimension: L140 mm x W140 mm x H13 mm
Weight: 89 g
Rated Speed: 700 ~ 1300 RPM ±10 %
Noise Level: 20 ~ 24 dBA
Air Flow: 65 CFM