California based PC chassis and accessories producer NZXT has unveiled the Kraken G10, to aid in the application of liquid cooling to your GPU. Nowadays it's easy to purchase and install an off-the-shelf a liquid cooling setup for your CPU - NZXT are hoping that its Kraken G10 GPU bracket will bring a similar level of ease of installation and utility to people suffering from sweltering, noisy, air-cooled GPUs installed in their systems.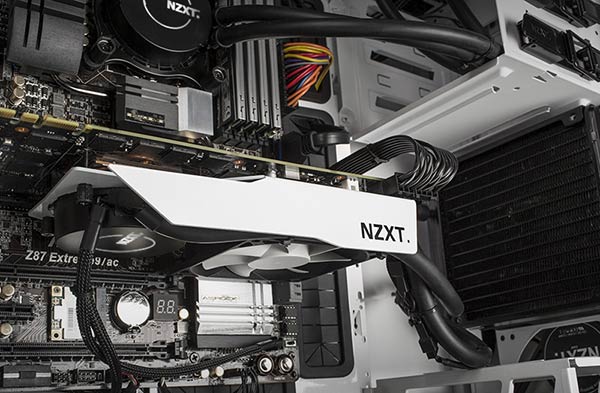 The Kraken G10 is compatible with over 24 different AMD and Nvidia reference graphics cards and 19 different all-in-one liquid cooling solutions. NZXT boasts that the use of the Kraken G10 can improve your cooling performance by over 40 per cent over stock coolers. An example of a setup utilising an Nvidia GTX 780 is displayed in the chart below.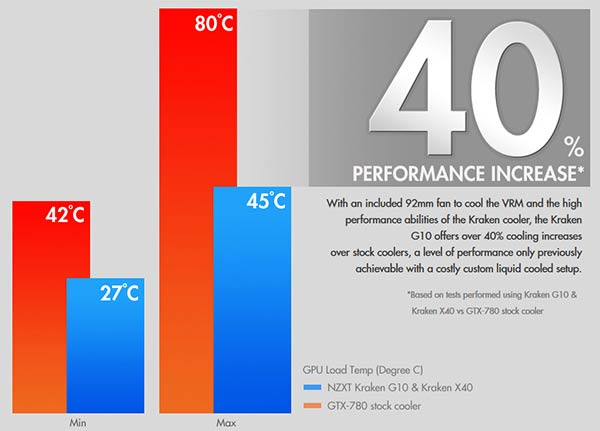 In its product information pages NZXT says "The Liquid cooling solution for your video card has finally arrived. If there's one desire every gamer, enthusiast and builder should have in common, it's the need for a cooler system. With the growth of the all-in-one liquid cooler, CPU cooling has become simple, cost-friendly and most importantly, efficient. Unfortunately, the same can't be said for GPU cooling. At least not until now."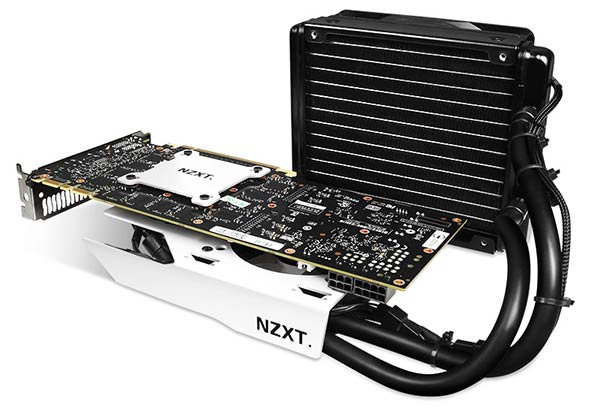 The bracket is intended to be easy to install with its universal mounting hardware design. NZXT has intelligently included points to rout and hide cabling to benefit your system air-flow. The Kraken G10 includes a 92mm fan which will provide supplementary cooling to the graphics card components not covered by your liquid cooler block.
Kraken G10 graphics card compatibility:
Nvidia : GTX 780, 770, 760, Titan, 680, 670, 660Ti, 580, 570, 560Ti, 560, 560SE
AMD : R9 290X, 290, 280X, 280, 270X, 270 HD7970, 7950, 7870, 7850, 6970, 6950, 6870, 6850, 6790, 6770, 5870, 5850, 5830
The compatibility list is based on AMD Radeon and NVIDIA's reference board layout only.
Kraken G10 cooler compatibility:
NZXT : Kraken X60, Kraken X40
Corsair : H110, H90 , H55 , H50
Antec : KUHLER H2O 920V4, KUHLER H2O 620V4, KUHLER H2O 920, KUHLER H2O 620
Thermaltake : Water 3.0 Extreme, Water 3.0 Pro, Water 3.0 Performer Water 2.0 Extreme, Water 2.0 Pro, Water 3.0 Performer
Zalman : LQ-320, LQ-315, LQ-310
Kraken G10 key specs:
Dimensions: 177 (W) x 32.5 (H) x 110.6 (D) mm
Fan connector: 3 pin
Fan dimensions: 92 (W) x 92 (H) x 25 (D) mm
Fan speed: 1,500 RPM
Warranty: 2 years
NZXT has missed a trick by not supplying a chart, similar to the one above for the Nvidia GTX 780, showing the cooling benefits and the noise reduction available to AMD Radeon R9 290 (X) users. It has been a common complaint that AMD's standard cooler runs loud and hot so the Kraken G10 could be a nice match for these new Hawaii GCN architecture AMD GPUs.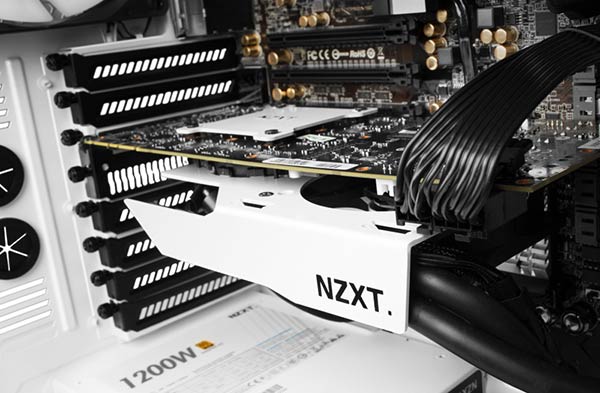 Available from 10th December via the NZXT Armoury Store, the Kraken G10 is priced at $29.99 in white, black or red livery. UK pricing and availability isn't known at this time.