Intel's Celeron line of CPUs aren't known for their feature set of performance credentials, but the budget parts are a favourite among overclocking enthusiasts who're looking to push their processors to the limit.
Don't be surprised, then, to find that an overclocker going by the name of TiN has set a new world record for CPU frequency by overclocking a 3.06GHz Intel Celeron D 347 right the way up to a blistering 8,199.5MHz.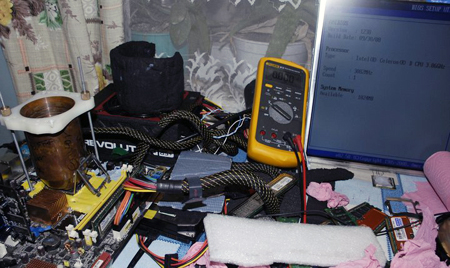 In an age of multi-threaded computing, CPU frequency is no longer the defining performance characteristic, but there's no denying TiN's remarkable feat.
So how did he do it? Well, in order to best cool the £25 CPU, he first heated it to over 200°C to remove the integrated heat spreader (IHS). With that out the way, he popped the still-working CPU into a heavily-modified DFI Lanparty UT P35-T2R motherboard and watched it hit 8,199.5MHz whilst cooled by liquid nitrogen.
TiN's score beats out the previous record holder by just 16.8MHz. Here's the validated CPU-Z screenshot: