Showing its desire to capture a percentage of the enterprise market, Calgary-based liquid-cooling specialist CoolIT Systems has introduced its WS 240 liquid cooling solution for Nehalem-based processors.
The WS 240, pictured below, consists of a 240mm radiator, an attached pump, dual 120mm cooling fans and two CPU water blocks, all contained in a closed-loop system that's not too dissimilar to CoolIT's consumer-orientated Domino A.L.C.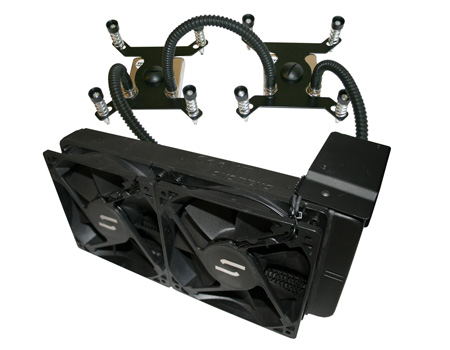 Designed for workstation use, the WS 240 promises "maximum performance gains, reduced system noise, improved reliability, and enhanced longevity" of a system equipped with dual Nehalem CPUs - namely the Xeon 5500 series.
CoolIT tells us the cooler can be set to operate in three modes at the touch of a button, allowing users to choose between quietness and performance. As standard, the WS 240 is factory sealed and designed to fit into "most" E-ATX chassis. Pricing is set at around $270, and those with specific requirements can contact CoolIT to get a customised version designed to suit their system.