Intel's newly-named Core i7 processors are due later this year, and those looking to upgrade will be needing a new motherboard equipped with an LGA1366 socket.
In addition, if you're inclined to use custom cooling solutions, you may find that your current CPU cooler won't fit the bill. As far as we can tell, boards with the LGA1366 socket feature heatsink mounting pins placed approximately 80mm apart - a touch further than the 72mm spacing found on boards with the LGA775 socket.
Therefore, if Intel's stock heatsink doesn't live up to your expectations, chances are you'll be in the market for a new CPU cooler and one of the first to be billed as Core i7 compatible is the Nexus FLC-3000.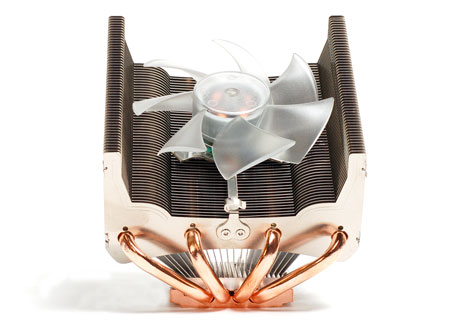 The tilted cooler features four 6mm copper heat pipes at a 30-degree angle, a SkiveTek heatsink and a 92mm PWM-controlled fan attached to a series of ultra-thin fins.
The fan speed can vary between 900rpm and 2,500rpm, with a maximum noise output of a reasonable 24dBA.
Trouble is, Nexus lists the cooler as suitable for socket LGA1366, LGA775 and AM2. We're scratching our heads as to how it'll mount both Intel sockets, but we're presuming it'll come with two different-sized mounting brackets.
Official product page: nexustek.nl