MSI brings Stirling Engine theory to the PC
MSI is promising an "ECOlution", short for eco-friendly and environmental evolution, at this year's CeBIT.
On show from the Taiwan-based manufacturer will be Intel 4 series motherboards, a Green Concept notebook designed with Anion technology, a gaming series notebook with Turbo Battery Energy-Saving Technology and a selection of low-cost PCs.
Whilst those are all well and good on the green-front, what MSI hopes will really catch the eye is its new "Air Power Cooler", set for its first live demonstration at CeBIT next week.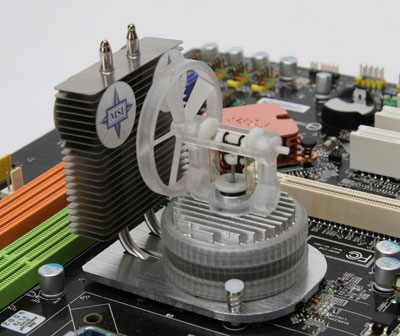 The Air Power Cooler, pictured above and designed by MSI with the help of Polo-Tech, is based on Stirling Engine theory and utilises heat transfer technology to power its fan. Sound complicated? Here's MSI's official explanation:
"The "Air Power Cooler" transfers the chipset heat into air momentum, when the air becomes hot, the air will expand then push the fan to rotate and In doing so cooling the heatsink immediately. After the air moves from the bottom to top of the piston, the air will become heavy to push the up piston down. The better air piston design can transfer over 70% heat power and transfer to air power, that's great efficiency transfer from Stirling engine theory. In a comparison with solar power the transfer rate is only around 20~30% requiring more surface and as a result cost."
It sounds very cool and every saved watt is all important in the green(er) looking future, but will it prove beneficial? MSI's demonstration pictures show the fan as a northbridge cooler as opposed to a CPU cooler. We therefore assume the technology isn't yet suitable for cooling hotter components. With the presumably minimal energy saved, will the technology prove viable? We're not so sure, but we salute MSI for trying.
Here's a rather subdued video, provided by MSI, of the Air Power Cooler in action:
MSI hopes to turn this early concept into mass production in the near future. We'll be taking a closer look when we land at CeBIT next week, stay tuned!
Official press releases:
MSI invites you to the ECOlution experience at CeBIT
World's First Powerless Air Cooler on a Motherboard!