Cooler Master has launched a new addition to its range of flagship four heatpipe coolers. The new MasterAir MA410M is equipped with dual 120mm MasterFans (MF120R) with translucent blades, push-pull cooling, four 6mm direct contact CDC 2.0 heatpipes, temperature sensor, and combines addressable RGB and smart RGB LEDs (x28). With this new product Cooler Master invites you to cool colourfully.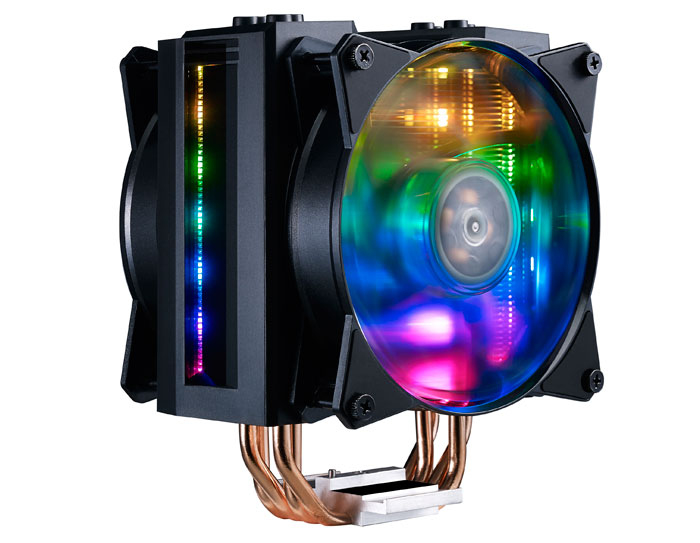 In a press release sent to HEXUS, Cooler Master says that it has precisely engineered the cooling fins "ensuring the spacing between each fin of the tower is at the optimal distance to guarantee minimal airflow resistance and thus allowing maximum air into the heatsink". All four of the 6mm heatpipes thread through the heatsink and flatten off to provide good contact with the heat source. Cooler Master dubs this Continuous Direct Contact Technology 2.0 (CDC 2.0). Furthermore, Cooler Master has leveraged its patented X-vents and Air-Guided Armour (to reduce dead heat spots) in the design.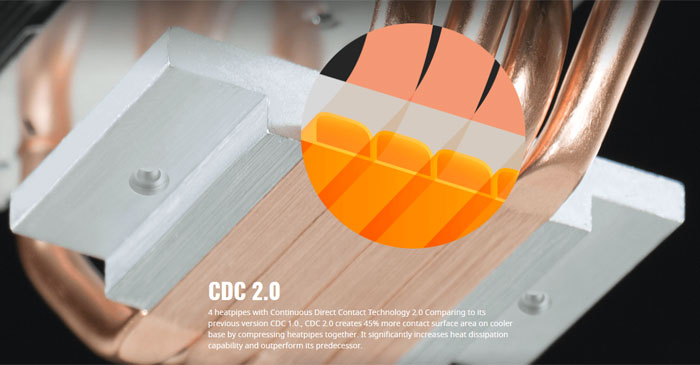 Dual 120mm MasterFans (MF120R) are fitted to this product and are used in a push-pull configuration. These translucent fans perform and look great with the RGB LEDs. Fan speeds range between 650 – 1,800 RPM (PWM) and max air flow is 53.38 CFM and max pressure 1.65 mmH2O. Noise levels from the fans range between 6 – 31 dBA.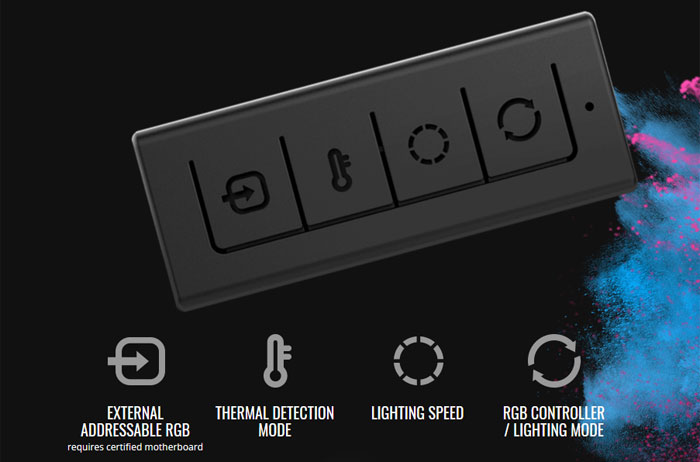 The RGB LED lighting control available is quite flexible. There are 28 individually controllable RGB LEDs built into the MasterAir MA410M. Cooler Master says that the lighting is directly addressable via its own Master+ software (to be released soon), or you can integrate it into a lighting system based around one of the several standards in place from various motherboard makers. Additionally Cooler Master has bundled a free Wired Addressable RGB Controller in the box so you don't need any software at all to make use of the colourful lighting options. The controller allows for quick adjustments of mode, colour, and brightness. One of the modes is linking the RGB LED colour to your CPU temperature. On the topic of appearances, Cooler Master has implemented an aluminium hexagon fin cutout above a light guide device, which creates a unique hologram lighting that can be seen through the top of the cooler.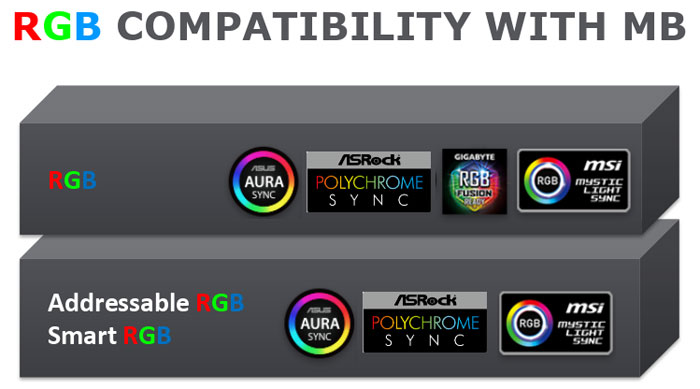 You can fit the MasterAir MA410M to all recent consumer CPU sockets from Intel or AMD. It measures 111.8 x 130.9 x 165.1mm and weighs 820g.
Cooler Master told HEXUS that the new MasterAir MA410M (MAM-T4PN-218PC-R1) will be available from the second week in June priced at £59.99 inc VAT. Buyers get a five year warranty.