Aluminium chassis specialist Lian Li has just announced the PC-M25 mini-ITX chassis. The key appeal to this chassis is that it can utilise mini-ITX and microATX motherboards in a small form factor while maximising the storage options with its plethora of drive mounting options and hot-swap drive cage. It could be an ideal mini-server for some users.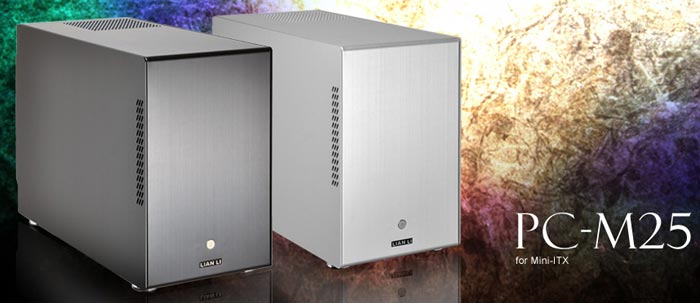 In all you can get up to 5x 3.5-inch drives mounted in the PC-M25's hot swap cage. An additional 2x 3.5-inch drives or 3x 2.5-inch drives can be mounted in the supplied bottom-of-case mounting tray. The drives installed in the cage are fitted with rubber suspension accessories for quiet operation and quick and easy swap-out. With seven or eight drives installed, users will have a lot of storage capacity/flexibility and could utilise advanced RAID options.

Compact drive-stuffed systems can have cooling issues but Lian Li assures us that its PC-M25 "employs a simple cooling design while maintaining great performance". The system, as supplied, relies upon a high-airflow, low-RPM 140mm fan taking fresh air through two vents on both side panels, and through the drive cage, and exhausting the air through a 120mm fan located at the rear of the top panel.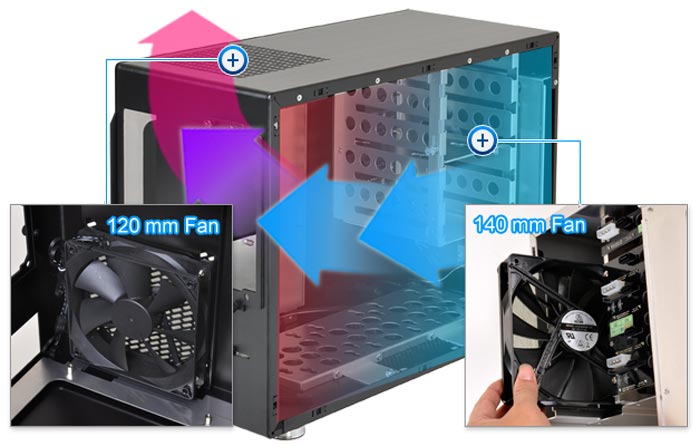 Lian Li's latest chassis offers plenty of capacity for large graphics cards and can fit standard ATX power supplies too. Maximum compatibility is as follows; VGA Card length: 410mm, PSU length: 230mm, CPU cooler height: 80mm. There are four expansion slots at the back of the chassis. Tool-less side panels help you configure and change your system without fuss. Its minimalistic design doesn't include an easy access I/O panel, just a single power/reset button.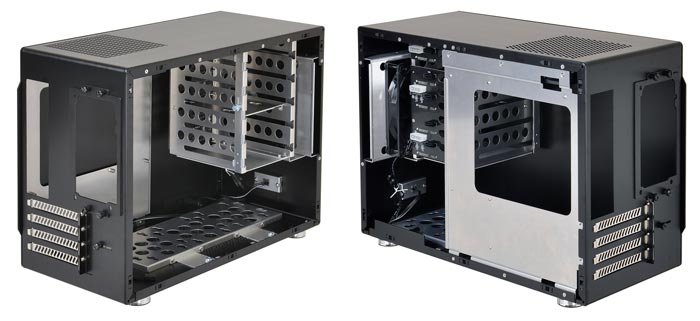 The Lian Li PC-M25 mini-ITX chassis measures (W)199mm x (H)322mm x (D)441mm and weighs in at 3.74Kg. You can buy this aluminium chassis in either silver or black finishes.