Taiwan's In Win has brought along two interesting new PC chassis designs for Computex Taipei this year. We have seen both a new version of its popular D-Frame, the D-Frame mini, and a brand new S-Frame chassis design has been added to its line-up.
D-Frame mini
The new D-Frame mini is a more portable and lighter version of the original D-Frame. This smaller version of the classic chassis also has an additional S curve handle situated on the top, to allow users to transfer and pick it up with ease. The case has support for mini-ITX motherboards, multiple 2.5-inch and 3.5-inch drives, along with the signature D-frame power supply housing.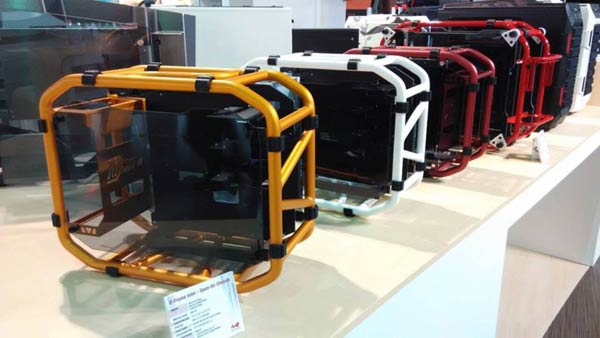 Being practically open-air, the case is made with the same tubular aluminium as the D-frame, the side panels are protected with smoked acrylic panels. On the front of the D-Frame mini, we can find two USB 3.0 ports and two HD audio ports. In Win is offering four different colour variations for its D-Frame mini; coming in red, white, orange or black.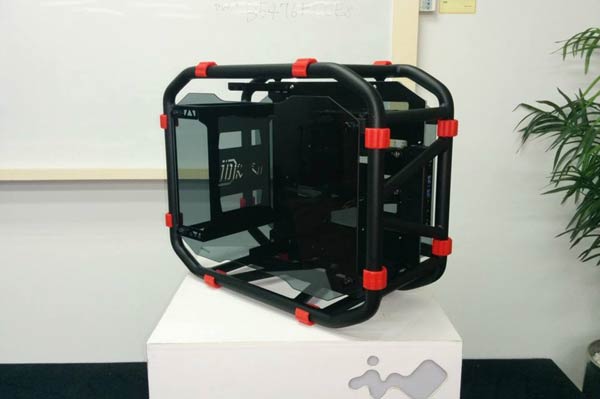 The suggested retail price for the D-Frame mini is $349.99.
S-Frame
Here is the higher-end S-Frame case, an exclusive chassis with just 500 units being made in the first batch. In Win has been teasing this chassis in a video trailer so it's good to see it at last. Stretching the boundaries of computer chassis designs; this unique case is made by folding a single piece of anodized aluminium 15 times to create the final form factor. Holes are then punched through the metal in the right places to allow users to affix their components.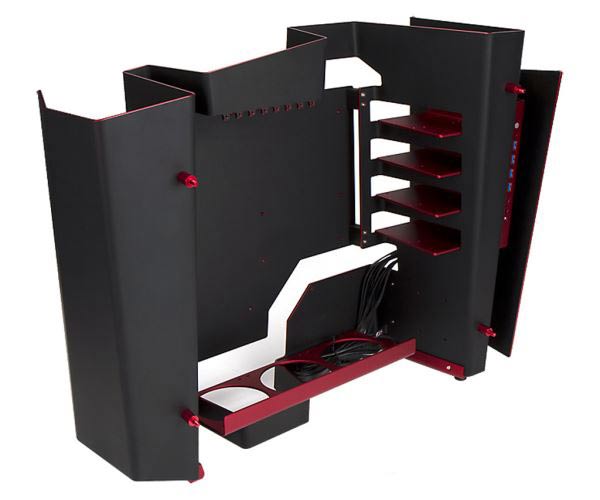 In Win S-Frame, without its tempered glass sides
The 4mm thick aluminium is encased in tempered glass sides and designed to be an open frame and open air case that can support 4-way video card configurations. It also has capacity for plenty of fixed storage, you can see the shelves, and a wide range of cooling options (it allows air coolers up to 195mm). There are three 120mm fans ports placed at the bottom of the case, or you could configure a triple fan (360mm) radiator. The motherboard is inverted within the S-Frame, with venting from the top of the case, allowing the components to be cooled by natural heat convection and requiring less active fans.
The guys at TweakTown made a video tour of the case, which is the best way to see it and understand the layout – see below.
A stylish design like the S-Frame does come with a hefty price tag ($799) but it's handsome and functional so those first 500 units could sell quickly…