With the world in recession, Antec - a manufacturer best known for its performance chassis - has decided to diversify and started last week with the launch of its mini-ITX ISK series of chassis. Here at COMPUTEX, it's continuing to broaden its horizons by launching the Antec Two Hundred - a mid-tower chassis for gamers on a budget.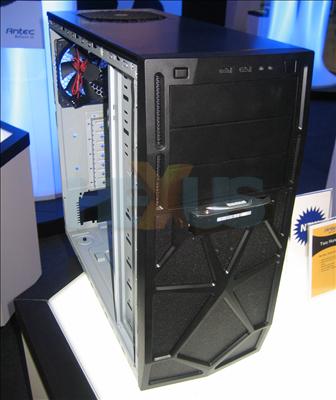 The Antec Two Hundred, pictured above, features a bullish front face that provides quick access to a hot-swappable 3.5in drive bay. It's a useful feature, we reckon, but the drive protrudes when installed and is anything but easy on the eye.
Inside, there's a total of 10 drive bays - six internal 3.5in bays, three internal 5.35in bays and the single slot-loading hot-swappable 3.5in bay. There aren't a whole lot of frills - and drives are installed via plain ol' thumb screws - but the Two Hundred does retain a few useful features.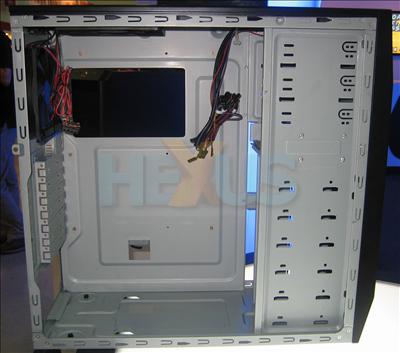 The chassis provides room for a bottom-mounted PSU, and there's support for up to five fans - one 140mm up top, one 120mm at the rear, two 120mm intakes up front and a 120mm side fan, too. Note that only the top and rear fans are included as standard, though.
Elsewhere, there's a useful cutout in the motherboard tray allowing for easy CPU cooler installation, and there's plenty of room provided for cable management.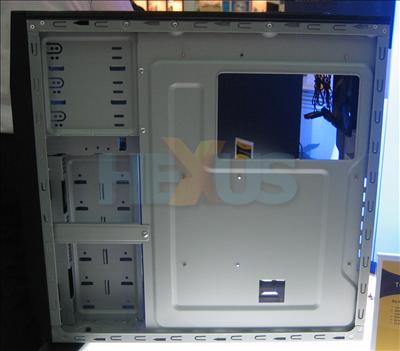 We're not sold by the Two Hundred's aesthetics, but its $59 price tag isn't too shabby at all. Keep an eye out for low-cost chassis from Antec, as it's also launching its value-specific VSK series today - starting with the $49 VSK-2000.