The Mini-ITX form factor has always held a lot of promise, but it hasn't quite taken off and we're yet to see a barrage of mini PCs in the living room. According to chassis-specialist Antec, however, Mini-ITX is the next big thing and it's preparing itself for a mini future by launching an entire line of enclosures designed for Mini-ITX boards.
The line, dubbed the ISK Series, hopes to "combine exceptional performance with quiet features for small form factor systems" and gets underway with the launch of the ISK 300-65 - a chassis that Antec refers to as "an epic case of mini proportions".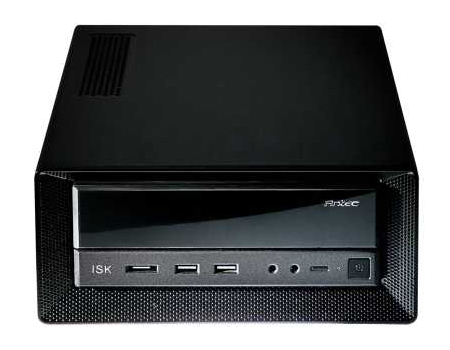 Antec's ISK 300-65, pictured above, features a 0.8mm cold-rolled steel frame and measures just 96mm x 222mm x 328mm. It'll ship with a 65 watt power adaptor, and is cooled by a single 80mm side-mounted TriCool fan that supports three speed modes.
Up front, there's a pair of USB ports, eSATA, audio ports and power and reset buttons. Despite its size, there's also a flip-down panel that provides access to a slim 5.25in optical drive bay.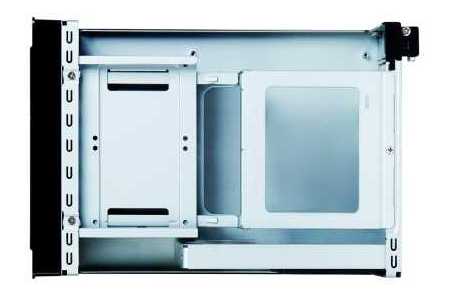 Inside, there isn't a whole lot of room to work with - no surprises there - but Antec has found room for two 2.5in drive bays, in addition to the slim 5.25in bay, and there's also a single half-height expansion slot - essential for installing a TV tuner.
We reckon we need to see more Mini-ITX chassis, and Antec's ISK 300-65 isn't a bad starting point for the ISK Series. Granted, it isn't as good looking as LUXA2's $300 LM100, but then it is a whole lot cheaper, too. Antec will be pricing the ISK 300-65 at around $89, and it'll be backed by a three-year limited warranty.
Official press release: Antec Launches New Mini-ITX Form Factor Case: ISK 300-65