If your PC's innards are worth showing...
Fed up with all those common and basic-looking chassis that we're all accustomed to seeing? Well, if you really want to stand out from the crowd, take a look at Antec's bona fide Skeleton.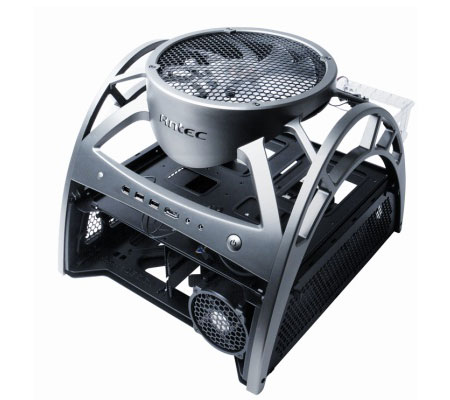 This open-air contraption - made of 0.8mm steel - has been on show in prototype-fashion for quite a while, but we're led to believe it could be ready for retail later this month.
Skeleton doesn't just look different, it works a little different, too. Your motherboard fits onto the easy-to-reach slide-out tray, beneath a whopping great 250mm fan - that'll keep things cool, and provide a psychedelic light show with its multi-colour LED.
Beneath the motherboard tray is room for a power supply, two 5.25in optical drives, and two 3.5in hard-disk drives - complete with a front-mounted and hard-drive cooling 92mm fan. There's a total of seven expansion slots - with room for 11in graphics cards - and two USB ports, FireWire, eSATA and audio connectivity ports can be found on the front panel.
It measures 31.75cm x 37.6cm x 41.9cm and weighs 15.5lbs. We're not usually keen on chassis monstrosities, but this one has us intrigued. Provided you don't mind a lot of dust, this one could be the ultimate piece of show-off kit.
Head on over to page two for a complete specification and additional images.