Taiwan-based NZXT has unveiled its super-quiet Whisper chassis, successor to the almost-super-quiet Hush.
Whisper, pictured below, is said to "raise the standard of silent computing" and packs a handful of features that aim to provide the enthusiast with a near-silent computing experience.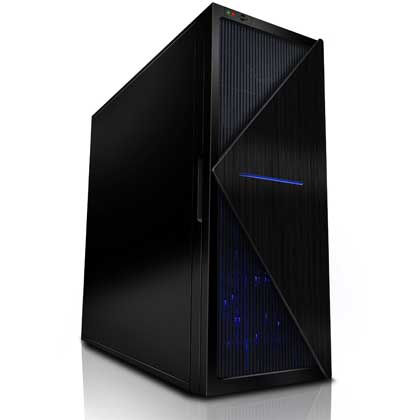 Sadly, those silencing features aren't really anything out of the ordinary. You'll find 10mm noise-dampening foam pads on both side panels and the top panel, there are rubber grommets to reduce vibration from any installed hard drives, and a padded power supply holder to reduce noise that little bit further.
Not mind-blowing by any means, but it's nice to see an enthusiast chassis keeping an eye on noise levels. Whisper has room for nine hard drives and features six 5.25" drive bays. There's plenty of room for long expansion cards, and a pre-drilled wire-management system to make cable routing a little easier.
The fans, usually one of the biggest noise culprits, come in the form of a 120mm blue LED intake, a 120mm rear exhaust, and two 80mm rear exhausts.
Johnny Hou, Chief Designer at NZXT, said:
Whisper is a really exciting option for the gamer who wants to maximise both computing performance and silent operation. NZXT's advanced noise dampening technology combined with the many expansion options make Whisper a superior building block for any PC gaming rig.
With product names as entertaining as Hush and Whisper, we were expecting something a little more special. Here's hoping the next case will be called "Shut It", that's bound to be something extraordinary.
Whisper will be available in September at a retail price of £139.99. Its complete specification is as follows:
MODEL
Whisper SERIES
CASE TYPE
FULL TOWER Steel
FRONT PANEL MATERIAL
ALUMINUM/PLASTIC
DIMENSIONS (W x H x D)
211.5 X 521.5 X 562 mm
COOLING SYSTEM
FRONT, 1 X 120mm Blue LED (included)
REAR, 1 X 120mm, 2 x 80mm fans (included)

DRIVE BAYS
6 DRIVE BAYS
6 EXTERNAL 5.25" DRIVE BAYS
1 3.5" External bracket
9 INTERNAL 3.5" DRIVE BAYS
Screwless Rail Design
MATERIAL(S)
Steel Construction
EXPANSION SLOTS
7
POWER SUPPLY
500 WATT PS2 ATX 12V 2.0 ( OPTIONAL )
WEIGHT
11.5 KGS (W/O Power)
MOTHERBOARD SUPPORT
MOTHERBOARDS: E-ATX ATX, MICRO-ATX, BABY AT
Official press release: NZXT Whisper Sets a New Standard for Silent Computing Performance
Official product page: www.nzxt.com/products/whisper