Late last month, Lian Li presented its full-size HTPC chassis-in-disguise in the form of the X2000 and X500.
HEXUS, and most of our readers, couldn't picture the cases blending into our living rooms. Fortunately, Lian Li is looking to make amends today with the launch of two proper HTPC chassis, the MUSE C36 and MUSE C37.
Both offer a slim, low-profile design measuring 435mm x 94mm x 378mm and are capable of housing one 5.25in optical drive and two 3.5in HDDs. The MUSE C37, pictured below, will support a micro-ATX mainboard and a standard ATX PS/2 PSU, but only has room for low-profile cards.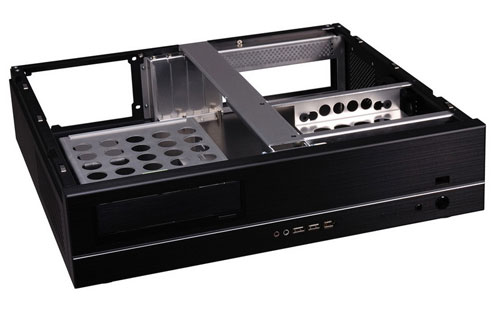 The MUSE C36, however, has a little more room to play. The chassis, pictured below, again supports micro-ATX mainboards but comes with a 300W TFX PSU as standard. There's a structural support bar to add strength to the case, but it can be easily raised to allow you room to work with the mainboard. What's more interesting is the chassis' two interchangeable back panels; one can fit four low profile cards, the other can squeeze in two full-size PCI-E cards via an included riser card.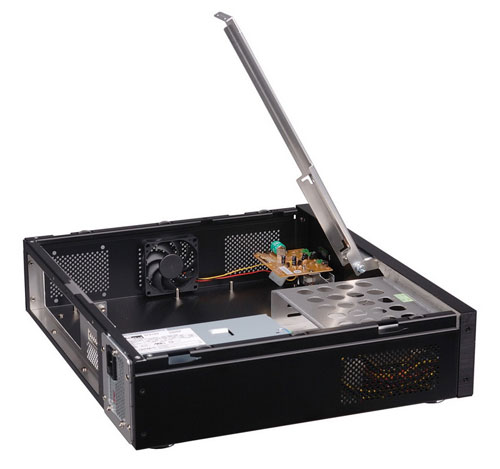 Both chassis are all aluminium and provide front-mounted USB 2.0, Firewire 1394 and audio ports. As you'd expect from Lian Li, there's particular attention to silence. Both chassis feature anti-vibration spring clips and rubber rings supporting the HDDs. There's plenty of open vents and a 70mm (1,500RPM) fan helps improve airflow.
The MUSE C36 and MUSE C37 will land later this month priced at $219 and $159, respectively.
Official product pages
Lian Li MUSE C36
Lian Li MUSE C37
Related reading
Lian Li launches X2000 chassis for the living room
Right on cue: Lian Li launches X2000's younger brother, X500