PCs in the living room - how's it best achieved? Well, for the most part, manufacturers have turned PCs thin and small, hoping to hide them away in an AV rack.
Lian Li, on the other hand, is doing things a little differently. The Taiwanese chassis manufacturer today launched its Tyr X2000, and this living-room chassis is actually designed to purposely stand out. The behemoth case can't hide, but Lian Li states that it "proudly resembles multimedia speakers, and emblazons your fashion sense in style".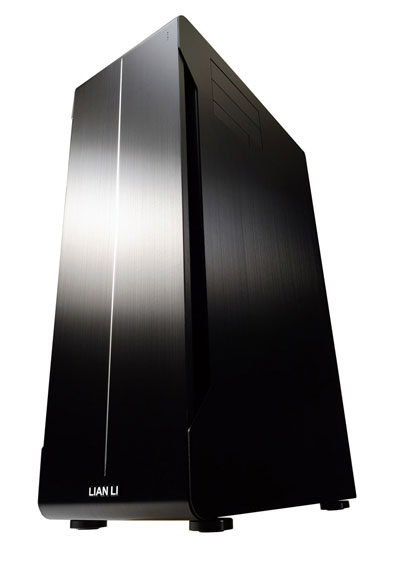 It doesn't resemble any of my multimedia speakers, but it's a twist in the tale of HTPC cases.
One obvious advantage of the Tyr X2000 is that media users won't need to sacrifice performance. Gone are the days of hunting for low-profile graphics cards or CPU coolers. This HTPC monster-chassis measures 230 x 430 x 680mm.
It'll provide a side panel that features two 5.25in bays and one 3.5in, accessible from either the left or right side. There's three 140mm silent intake fans up front, and six hot-swappable RAID SATA HDD bays.
Across the top you'll find all your multimedia ports; four USB, Firewire, E-SATA and HD Audio. The case isn't only about multimedia, however, it's also aimed at gamers and its innards therefore aren't exactly lacking in room::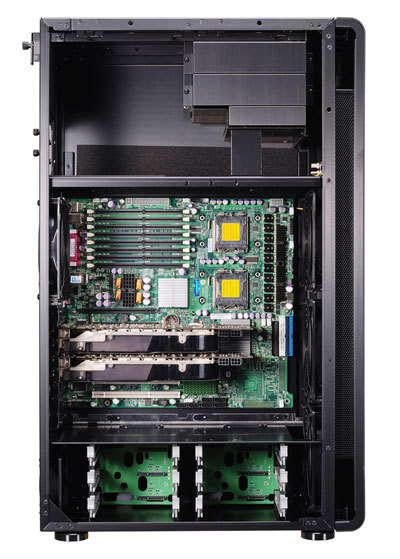 There's a tool-less latch that allows easy access to the compartmented heat zones inside with a special VGA support bar to give added rigidity to extra long VGA cards. You'll be able to fill it with two PSUs, and a choice of E-ATX, ATX or M-ATC motherboards. There's room for eight PCI slots, a few additional fans, and water cooling support if you fancy it.
As it'll supposedly blend right into your living room, Lian Li has designed the case with silence in mind. There's insulation material to go alongside the 2mm-thick aluminium alloy side panels and the case stands proud on rubber pads.
The case itself will become available in August, but pricing is yet to be announced. We can't fault its features, but we're dubious about blending this one into any living room.
If you'd like to see the Tyr X2000 in action, here's a Lian Li promotional video:
Official press release: Lian-Li launches the all new Tyr X2000 HTPC/Gaming Chassis