Cooler Master has launched a brace of new chassis into its Silencio range. The new Silencio S400 and S600 PC chassis are designed to offer an understated minimalistic design appeal while challenging similar chassis at the higher-end of the market. Cooler Master assures that the Silencio S400 and S600 build upon and refine the "long-established strengths of silence optimization and thermal efficiency," it has previously established with its Silencio range.

Beneath the minimal clean lines of these two new chassis is a purposeful complexity, with modular options influenced by performance and utility. For example, the series boasts tight-fitting panels and hidden ventilation. Flexibility is demonstrated by the top panel options - it can be devoted to ventilation duties or be an additional sound barrier. Overall Cooler Master hopes to provide a fine tuned design with minimal noise, maximised thermal efficiency and a refined appearance.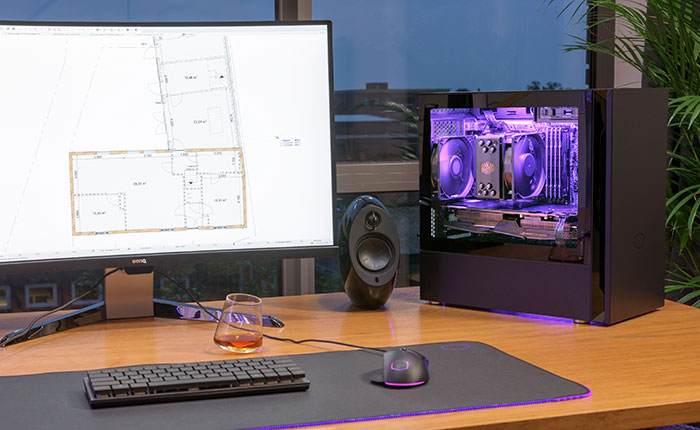 With a chassis series such as the 'Silencio', the design stands or falls on its audio insulation capabilities. Cooler Master says it has taken meticulous care on design and placing of sound dampening materials. It has tested builds based upon the Silencio S400 and S600 extensively using the Sorama Cam64 audio visualisation system to find and target sources of noise, vibrations, and resonance thoughout the chassis. It asserts that not only noise levels are considered but prominent frequencies within a certain range to improve the quality of the 'silence'. In addressing the various frequency peaks Cooler Master uses materials of appropriately varying densities.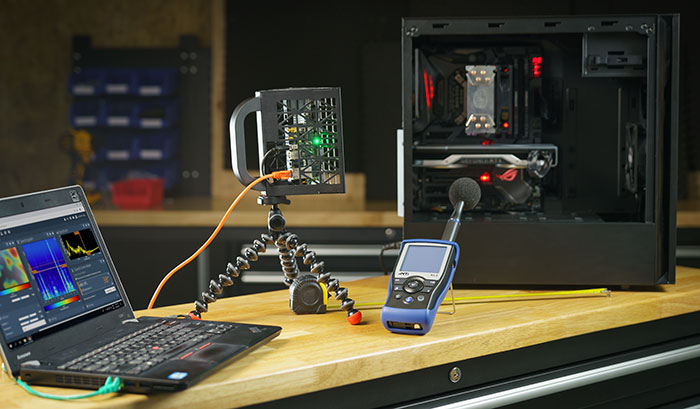 Key features of the Silencio S400 and S600 PC cases are as follows:
Sound Dampening Material – Sound dampening material minimizes noise from the pre-installed fans, the power supply, all steel panels, the steel front door, and all storage mounting points for 2.5" and 3.5" drives.
Tempered Glass or Sound-Dampened Steel – The Silencio is available in two versions: seamless tempered glass to show the system build or sound-dampened steel.
Removable Sound Dampening Cover – The top cover can be removed for increased ventilation or kept in place to reduce noise.
Reversible, Steel Front Door – The sound-dampened, steel front door features a reversible mounting system that is capable of opening in two directions.
Versatile HDD Cage (S400 only) – The HDD cage can be shifted to the front for more PSU clearance, backwards for additional front radiator space, or completely removed if HDD storage is not required.
SD Card Reader – The I/O Panel features an SD Card Reader for rich connectivity.
Headset Jack – The single 4 pole headset jack features both audio and microphone capabilities simultaneously so that separate jacks are not needed.
Silencio Fans – Two Silencio FP 120mm PWM fans are pre-installed with rubber padding to reduce noise. To connect additional fans, one 4pin 1-to-3 splitter is included.
Graphics Card Support Up To 398mm (319mm S400) – Generous clearance space is provided to support the latest graphics cards.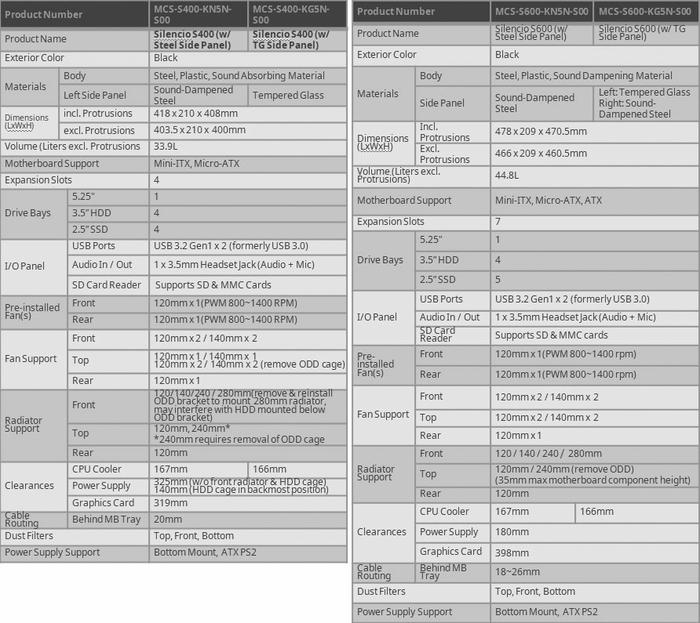 Click to zoom specs tables
In the above specs lists you will see that the key difference in the Silencio S400 and S600 PC cases is in their capacities. The larger S600 adds compatibility with full sized ATX motherboards, plus more expansion slots, drive bays, and larger graphics cards. However, cooling options are pretty similar in the types and numbers of fans and radiators that can be fitted. Whichever you choose, you can go for the silenced steel side panel or the tempered glass option.
The steel side panel versions of the Cooler Master Silencio S400 and S600 PC cases are price here in the UK at £79.99 and £89.99 respectively. Cooler Master told HEXUS that both designs will be available at Scan UK shortly.
HEXUS has reviewed several Cooler Master Silencio series chassis since 2011.