We have already highlighted Cooler Master's impressive new range of CPU cooling solutions at Computex 2019. However, it has other new product ranges on show that deserve attention, its chassis range for example, and in particular the new MasterCase H100 mini-ITX high-airflow chassis.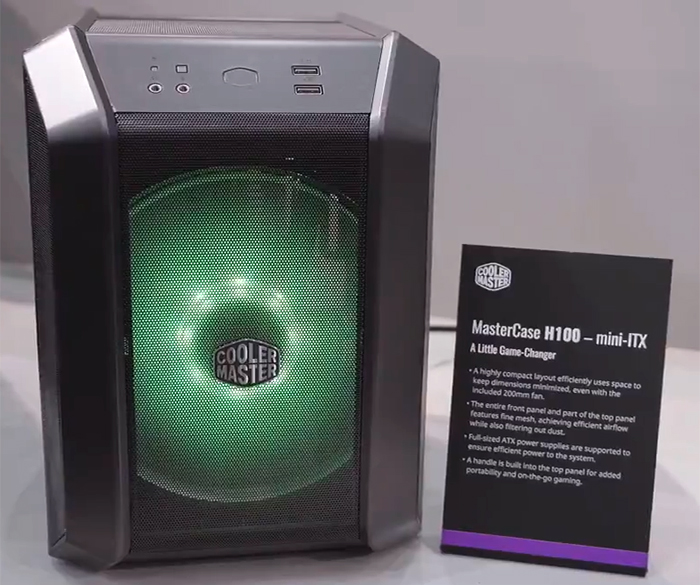 Cooler Master's MasterCase H100 mini-ITX chassis is a rather cute design that will be available in black, initially, with the possibility of a white version in the future. Despite its mini-ITX form factor it retains the front 200mm RGB fan that is a feature of larger H-Series chassis.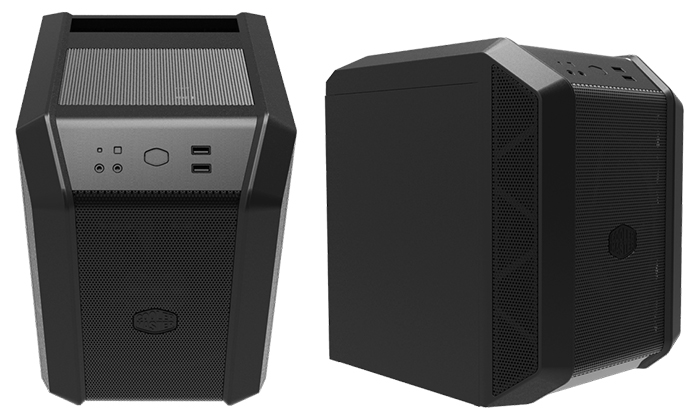 Referred to as a "travel-sized," PC case, the MasterCase H100 features a handle on top, to enhance its portability. Elsewhere Cooler Master describes the H100 as "a miniature version of your H500P," that is ideal for LAN parties. Other construction features that aid in portability, as well as in ventilation, are the mesh panels front and top.
Loading...
Been waiting a while?
Get Flash
to see this player.
In an example build at Computex, Cooler Master decked out the MasterCase H100 with the following representative components; an Asus ROG Strix X470 I Gaming motherboard, an AMD Ryzen 7 2700 with MasterAir G200P cooler, an Asus TUF RTX 2060 Gaming graphics card in RGB addressable holder, plus 16GB of dual channel RAM and a PCIe SSD. Notably for a Mini ITX chassis there is room for a full sized ATX power supply, in this case the Cooler Master V850 Gold.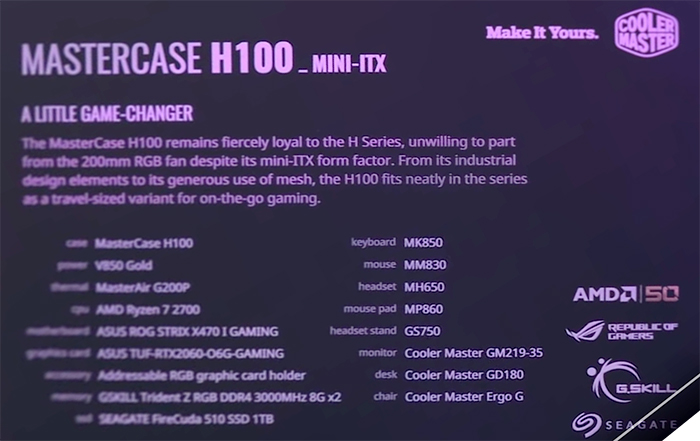 Cooler Master says that its MasterCase H100 will become available from 9th July at $59. As well as the possible white finish version, Cooler Master is planning a revision of the H100 with a 240mm AIO cooler mounted in the front.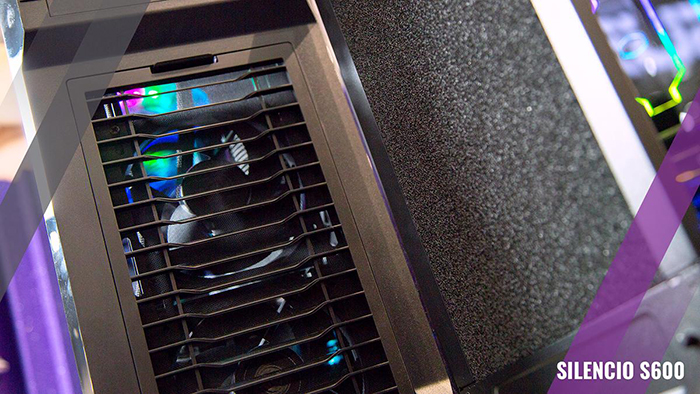 Other chassis Cooler Master showed off at Computex include the noise-dampened Silencio S400 (mATX) and Silencio S600 (ATX) made in conjunction with Sorama, the Cosmos C700P Black Edition with matt black coating in and out plus dual-curved tempered glass, and the MasterCase SL600M Black Edition - a prototype with black anodised finish.