Fans, fans and more fans.
Taiwan-based NZXT was founded in 2004 and claims to be built on realising the dreams of gamers worldwide. With that in mind, the company announced yesterday its latest gaming chassis; Tempest, available now at an RRP of $99.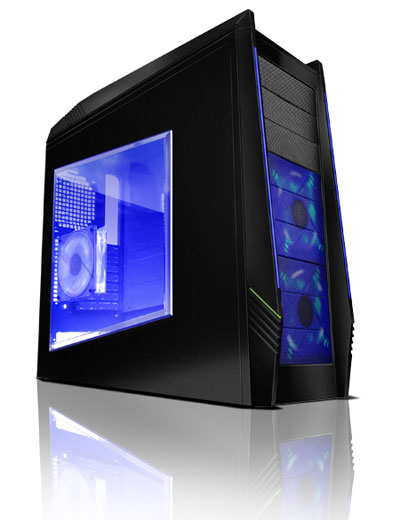 Pictured above, the NZXT Tempest is said to provide "breakthrough features in every category satisfying the high performance demands of PC Enthusiasts and Gamers worldwide".
The case comes complete with six fans including dual intake (120mm), dual exhaust (140mm) and additional side and rear fans (120mm). With plenty of fans at its disposal, NZXT claims the Tempest to be an "Airflow King".
Johnny Hou, Chief Designer at NZXT said:
"Efficient airflow is crucial in designing a high performance gaming chassis so that all of your computer's components are able to perform at their optimal level. With the Tempest's 6 120mm fans, we've created the Airflow King of cases. Combining the cooling capabilities with the space and storage features, the Tempest is designed to be the best enthusiast and gaming chassis in its class."
In addition to its numerous fans, the Tempest chassis provides E-ATX support and cable routing is pre-drilled for tidy cabling behind the motherboard tray. The case can hold up to eight HDDs in server-like cages cooled by the dual 120mm fans and a PSU can be mounted at the bottom of the case to provide separation of heat from the CPU.
We're not quite sure we'd go as far as to call the Tempest an Airflow King, but if the recommended price of $99 actually converts to a reasonable £49 on our shores, Tempest could be a winner in its price range.
Complete specification:
MODEL
Tempest SERIES
CASE TYPE
MID TOWER Steel
FRONT PANEL MATERIAL
PLASTIC
DIMENSIONS (W x H x D)
211.5 X 521.5 X 562 mm
COOLING SYSTEM
FRONT, 2 X 120 mm Blue LED (included)
REAR, 1 X 120 mm (included)
SIDE PANEL, 1 X 120mm Blue LED (included)
TOP, 2 X 140mm Fan (included)
DRIVE BAYS
9 DRIVE BAYS
3 EXTERNAL 5.25" DRIVE BAYS ( up to six 5.25" )
1 3.5" External bracket
8 INTERNAL 3.5" DRIVE BAYS
Screwless Rail Design
MATERIAL(S)
Steel Construction
EXPANSION SLOTS
7
POWER SUPPLY
500 WATT PS2 ATX 12V 2.0 ( OPTIONAL )
WEIGHT
11.2 KGS (W/O Power)
MOTHERBOARD SUPPORT
MOTHERBOARDS: E-ATX ATX, MICRO-ATX, BABY AT
Official press release: NZXT Unleashes Tempest Gaming Chassis