It's true, manufacturers sure do love the Gods
There's no denying it, manufacturers of PC components sure do love their Gods. Now that all the Greek Gods' names have been used, twice, it's time to switch to Egyptian Gods.
Here therefore is Hiper's new ATX case, its second, called OSIRIS. This one is named after the Egyptian God of the overworld. Why? Well, it sounds cooler than "block-o-metal-for-your-PC-bits" don't you think?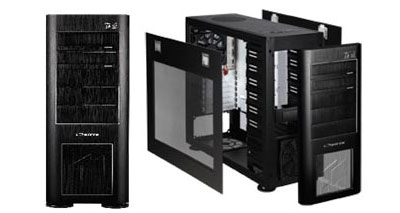 The OSIRIS, pictured above, is Hiper's successor to the award-winning Anubis. Featuring a further 20 refinements, OSIRIS will launch at CeBIT next week.
The case is made entirely of 6063-T5 military spec alloy, which Hiper tells us offers outstanding heat dissipation. The easily detachable side panels are 3mm thick and one of them as an EMI proof window so you can see your PC's shiny (or dusty) insides at work.
Hiper's description of the case reads:
"Osiris defines a design level of its own, not only regarding the unique look and feel. The whole case is constructed for tool-less assembly with an innovative airflow concept as the ultimate cooling solution: The PSU is located at the bottom with a direct fresh air intake, so the heat of the PSU is isolated from the case completely. On the top and on the back there are 120mm fans with 3pin plugs for connecting with the motherboard. And, just like Anubis, the modular HDD rack has the third 120mm fan on the front. Moreover three PCI air ventilation plates are also included in the package; this provides better exhaust capability for systems equipped with SLI or Crossfire. Of course Osiris supports XL ATX PSUs and all graphic cards currently available."
The edges of the buttons, plugs and the front side are diamond laser cut and the front USB and eSATA ports are placed on the front top side of the case for added convenience.
OSIRIS will be available in brushed black or brushed silver finishes and carries a recommended retail price of €129 +VAT, but first-buyers can look forward to a limited edition Osiris key ring with the unique serial number of the case - oooh, fancy!
Complete specification:
OSIRIS

ATX Mid Tower Case

HTC-1K514-A1

I/O panel

USB 2.0

2

Audio in/out

1/1

Line in

1

eSata

1

Drive Bay

Floppy

1

5¼" (Exposed)

5

3½" (Modular Rack)

4

Motherboard

Form Factor

ATX / MicroATX / FlexATX / ITX

Power Supply

Form Factor

Standard ATX / EPS 12V

Material

6063-T5 Military Spec Alloy

Dimension

526(L) x 202(W) x 452(H) mm

20.7" x 8.0" x 17.8"

Net Weight

8.4 kg
Official press release: OSIRIS – Outstanding Design built for a lifetime