GIGABYTE Technology, (TWSE: 2376), an industry leader in high-performance servers and workstations, today announced over 40 servers and server motherboards ready for the new AMD EPYC™ 7003 Series processors. These new servers will target modern data centers on-prem and cloud as well as provide generational improvements to deliver exceptional performance in HPC, HCI virtualization, cloud, and data analytics.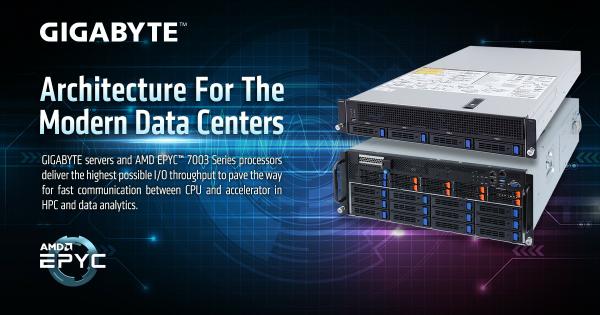 AMD EPYC 7003 Series Processors

Based on the 7nm process node, AMD EPYC 7002 and 7003 Series processors support up to 64 cores and 128 threads. They also support up to 4TB DDR4 memory per socket, and up to 3200MHz DDR4. For fast PCIe 4.0 connections between CPU and drives or accelerators, 128-160 PCIe lanes are available. With the addition of the AMD EPYC 7003 Series processors comes:
Significant generational IPC uplift
Modern security features
Drop-in compatible with GIGABYTE servers designed for AMD EPYC 7002 Series processors1
Additional memory interleave configuration, 6-channel, now supported
1st Wave of Servers

GIGABYTE servers have been tested and are ready for AMD EPYC 7003 Series processors. The following is a list of models available in the 1st wave ready for the new generation of chips. Overall, these servers offer a commanding leadership position in per core performance and best TCO across workloads.
R152-Z30

R262-ZA0

H242-Z10

G242-Z10

G492-Z51

S452-Z30

MZ32-AR0

R152-Z31

R272-Z30

H242-Z11

G242-Z11

MZ72-HB0

R152-Z32

R272-Z31

H252-Z10

G292-Z20

R152-Z33

R272-Z32

H252-Z12

G292-Z22

R162-ZA0

R272-Z34

H262-Z61

G292-Z24

R162-Z10

R282-Z90

H262-Z62

G292-Z40

R162-Z11

R282-Z91

H262-Z63

G292-Z42

R182-Z90

R282-Z92

H262-Z66

G292-Z43

R182-Z91

R282-Z93

H262-Z6A

G292-Z44

R182-Z92

R282-Z94

H262-Z6B

R182-Z93
Remote and Multiple Server Management:

As part of GIGABYTE's value proposition, GIGABYTE provides GIGABYTE Management Console (GMC) for BMC server management via a web browser-based platform. Additionally, GIGABYTE Server Management (GSM) software is free to download and used to monitor and manage multiple servers. GMC and GSM offer great value while reducing license and customer maintenance costs.

Learn more about our servers: https://www.gigabyte.com/
For further enquiries or assistance, email us directly: server.grp@gigabyte.com
Follow GIGABYTE on Twitter: http://twitter.com/GIGABYTEServer
Follow GIGABYTE on Facebook: https://www.facebook.com/gigabyteserver

AMD, the AMD Arrow logo, EPYC, and combinations thereof are trademarks of Advanced Micro Devices, Inc.

MLN-001: AMD EPYC™ 7003 Series processors require a BIOS update from your server or motherboard manufacturer if used with a motherboard designed for the AMD EPYC™ 7002 Series processors. A motherboard designed at minimum for EPYC 7002 processors is required for EPYC 7003 Series processors